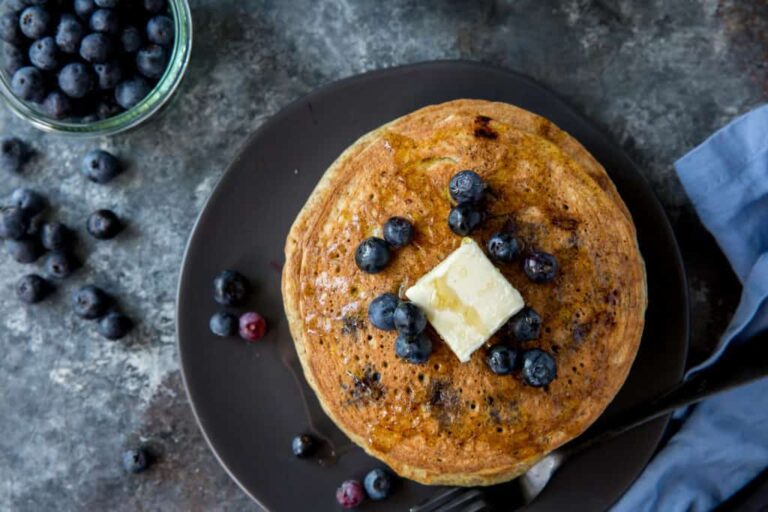 This recipe is from KetoConnect, where you'll find lots of delicious, low-carb recipe ideas. Here is the full Keto Coconut Flour Pancakes recipe with additional notes and ingredient links.
Servings: 4
Please note, a cast iron skillet is recommended for this recipe.
Ingredients:
1/4 cup butter, melted
1 teaspoon vanilla extract
15 drops liquid stevia
6 large eggs
3/4 cup nut milk (almond, coconut or macadamia will all work)
6 tablespoons coconut flour
1/4 cup golden flaxseed meal
1/4 teaspoon pink Himalayan salt
1 teaspoon baking powder
1/3 cup fresh blueberries*
Instructions:
Combine the butter, vanilla extract, stevia, eggs, and nut milk in a medium bowl, and combine using a whisk until thoroughly mixed.
In a large bowl, combine the coconut flour, flaxseed meal, salt, and baking powder, and combine using a spoon.
Add the wet ingredients to the dry mixture and whisk together until you have a uniform batter. Set aside for a couple of minutes to allow it to thicken.
Preheat a large skillet on medium-low heat and grease using a spray, ghee, or coconut oil.
Once the batter has thickened, fold in the blueberries.
When the skillet is hot, using a 1/4 measuring cup add the batter to the skillet. Cook pancake on first side for 3-5 minutes, and then flip and cook for an additional 30 seconds. This recipe will yield 8 medium pancakes. Work in batches until all the batter has been used.
Serve immediately with desired toppings, such as sugar-free syrup or additional blueberries.
Nutritional Information for 1 Serving (2 medium pancakes):
Calories: 416, Fat: 34g, Carbs: 13g, Fiber: 7g, Protein: 15g
*Feel free to leave out the blueberries for a lower-carb recipe.