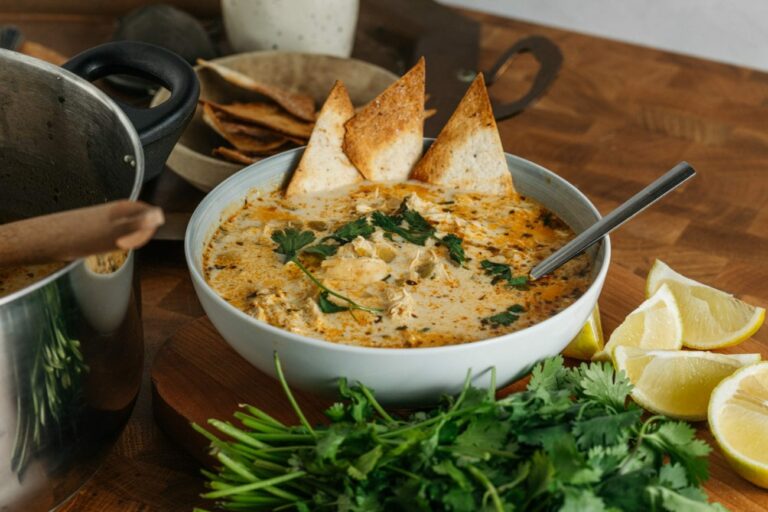 This recipe is from KetoConnect, where you'll find lots of delicious, low-carb recipe ideas. Here is the full Creamy Keto White Chicken Chili recipe with additional notes and ingredient links.
Servings: 6
Ingredients:
1 tablespoon olive oil
3 cloves minced garlic
1/2 cup diced onion
1+1/2 teaspoons cumin
1/4 teaspoon cayenne
3/4 teaspoon oregano
3/4 teaspoon paprika
1/2 teaspoon pepper
1 teaspoon salt
4 cups chicken broth
1.5 lbs precooked chicken breast, shredded (baked or boiled)
1  7 oz can green chilis
1  18 oz block of cream cheese
1/4 cup heavy cream
2 tablespoons cilantro
Instructions:
Add oil to a pot and sauté the garlic and onions until translucent over medium heat.
Pour in the spices and toast them for 2 minutes with the onions and garlic.
Add in the broth and bring to a simmer. Simmer for 15 minutes.
Once simmered add in the chicken, chilis, cream cheese, heavy cream, and cilantro.
Serve warm with keto tortilla chips, avocado, limes, and extra cilantro.
Nutritional Information for 1 serving:
Calories: 305, Fat: 11g, Carbs: 12g, Fiber: 1g, Sugar: 5g, Protein: 39g