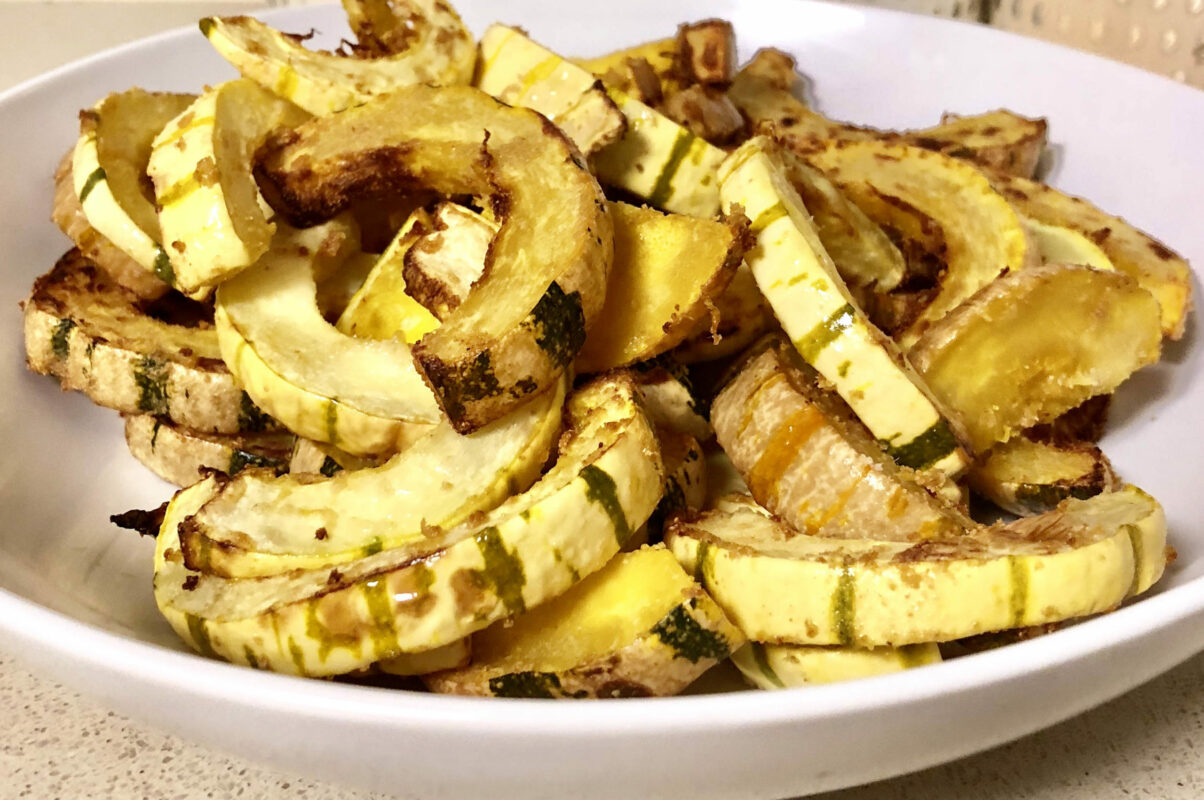 Over here at TCOYD we LOVE squash season! Delicata is a delicious winter squash with a mild flavor, making it incredibly versatile with many preparation and seasoning options. The skins are edible, which means they are easy to prep and enjoy.
Delicata can be found at most grocery stores during the fall and winter months as they are seasonal. Although they are on the smaller side, they are very affordable and just 2-3, when sliced, can make an ample side dish for a gathering of 4-6.
Ingredients:
1-3 delicata squash (depending on how much you're wanting to make)
1-3 Tbsp. olive oil (or cooking oil of choice)
Seasoning, as desiredDirections:
Preheat oven to 350 degrees
Directions:
Preheat oven to 350 degrees.
Because the skins are edible, do be sure to thoroughly wash/scrub the exterior with warm water. I recommend using a little scrub brush to make sure any residual dirt is removed (but hey, a little dirt never hurt anyone).
Slice the squash in half length wise (hot-dog style).
Using a spoon, scoop out the seeds.
Place flat side down, and cut into slices. The slices should come out as crescent or "C" shaped slices.
If seasoning, I find it easiest to toss the slices in a large mixing bowl with a little bit of olive oil and whatever seasonings you enjoy.
Arrange the slices on a lined baking sheet.
Bake at 350 for 20-40 minutes, until tender (cooking time varies depending on how much squash you have).
Seasoning ideas:
Salt and pepper
Steak seasoning
Garlic or onion powder
Red pepper flakes
Italian seasoning
Lemon garlic
Mix balsamic vinegar in with the oil
The possibilities are endless!
Serving ideas:
Perfect as is, for a side dish of squash
Top a salad with the slices (warm or cold, perfect use of leftovers…if there are any!)
Mix with other veggies (roasted broccoli, sweet potatoes, Brussels sprouts, etc.)
These can even be cooked unseasoned, frozen, and added to smoothies!
Nutritional Info for 1 cup of Delicata Squash, from sparkpeople.com:
Calories: 40, Carbs: 9.3g, Fiber: 1.3g, Sugars: 4g, Protein: 1.3g