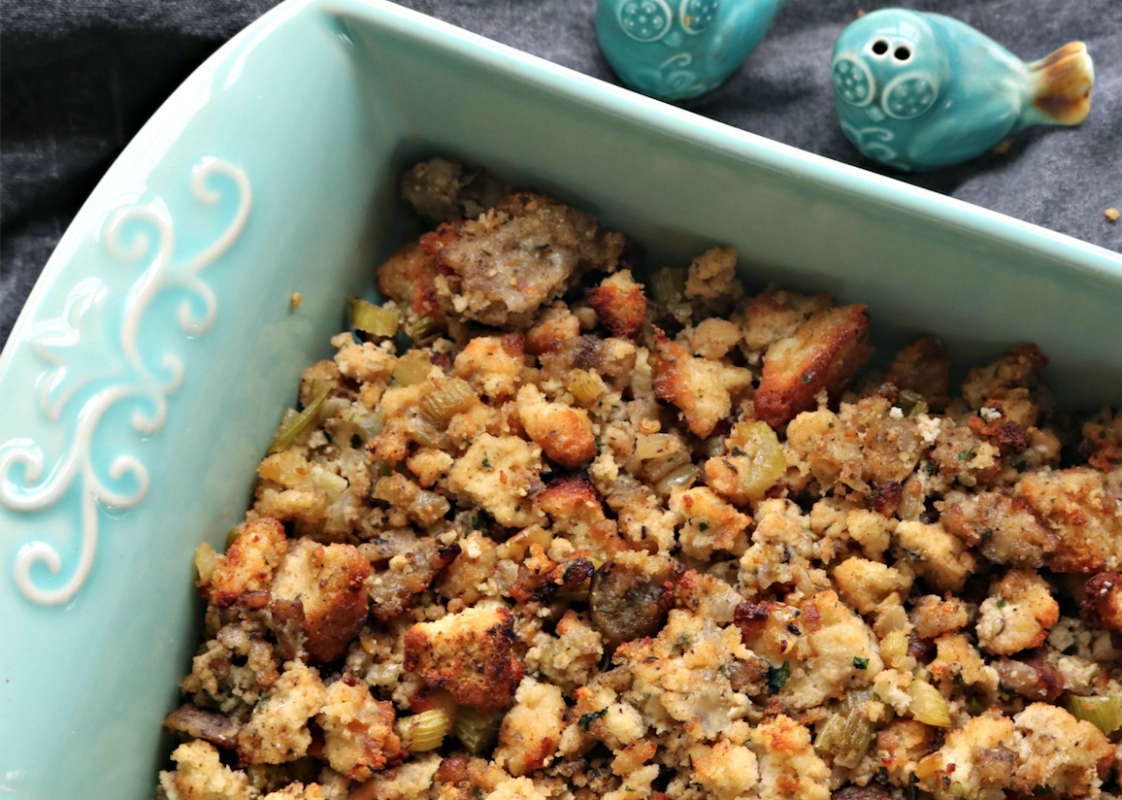 This stuffing recipe from spinachtiger.com is grain free, keto friendly and paleo. It's made with almond flour and coconut flour, and it's perfect for any recipe where stuffing is in order. Click here for the original recipe and notes.
Prep time:  60 mins, Cook time:  30 mins, Total time:  1 hour 30 mins
Serves: 8
INGREDIENTS:
Grain Free Biscuits (make double batch recipe here but see notes)
4 stalks organic celery, diced
2 yellow or sweet onions, diced
½ teaspoon poultry seasoning
1 pound country sausage
3 tablespoons freshly chopped sage or 1 teaspoon dried sage
1 tablespoon chopped fresh parsley
1 egg
1 cup chicken broth
Sage Browned Butter (optional)
Sage Browned Butter Ingredients:
6 sage leaves
2 tablespoons butter
INSTRUCTIONS:
Make Biscuits, adding in some freshly chopped sage, black pepper, and poultry seasoning. See notes.
Cool biscuits.
Cut into large cubes, larger than cubes you buy in store.
Bake cubes for 5 to 10 minutes at 375 until golden brown.
In a frying pan, make country sausage, reserving two tablespoons of fat.
If not using sausage, heat butter in pan.
Sauté celery and onions until softened. If you like celery soft, saute first for 5 to 10 minutes before adding onion.
Heat broth in sauce pan.
Put stuffing into a cast iron pan or shallow baking dish.
Toss with celery/onion, herbs, and egg.
Slowly add broth. Mix gently.
Bake at 350 for 15 minutes, covered with foil.
Add browned butter (see below). This is optional for extra buttery crunch, but you don't have to do this.
Remove foil and continue to bake another 15 minutes or until top is golden brown.
Make Browned Butter Instructions:
Heat butter in pan and add sage leaves, until they are crisp.
Nutritional Information:
Fat: 30, Carbohydrates: 11 (net 7),  Sugar: 1, Fiber: 4, Protein: 17