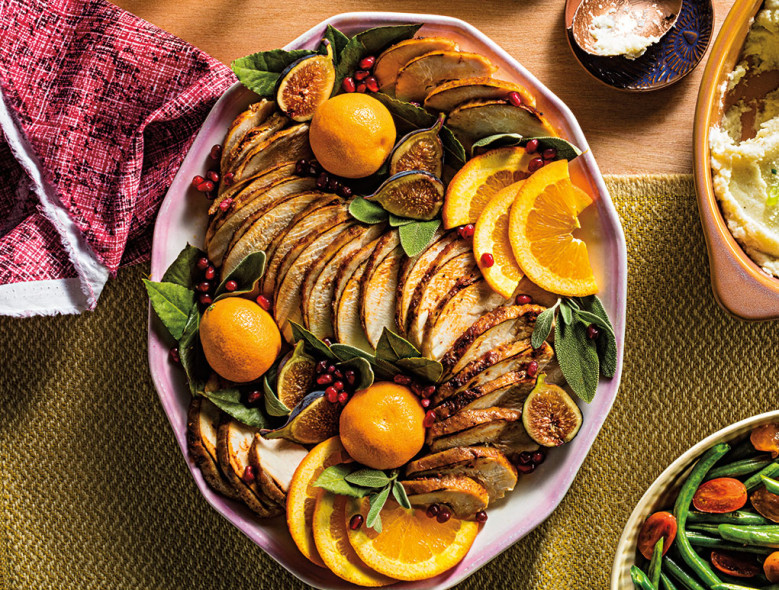 This recipe is from the American Diabetes Association's Diabetes Food Hub. Click here for the original recipe and notes.
An aromatic spice rub cooks into a rich paste that penetrates deep into the turkey breast. This turkey is great year-round or served as the centerpiece for a holiday feast.
Prep time: 10 min
Cook time: 1 hour, 45 minutes
Servings: 11
Serving Size: 3 oz. turkey
Ingredients:
Nonstick cooking spray
1 tbsp grated orange zest
½ teaspoon ground cinnamon
½ teaspoon ground cumin
½ teaspoon paprika
¼ teaspoon ground allspice or ground nutmeg
¼ teaspoon salt
¼ teaspoon black pepper
1/8  teaspoon cayenne pepper
5 lbs turkey breast with bone and skin
Directions:
Preheat the oven to 325. Lightly spray a roasting pan (with baking rack) with cooking spray.
In a small bowl, stir together all of the ingredients except the turkey.
Put the turkey on a cutting board or flat work surface. Carefully loosen the skin from the turkey breast by gently inserting your fingers between the skin and the meat, making a pocket for the orange zest mixture. Don't break the skin. Discard any fat beneath the skin. Still working carefully, spread the orange zest mixture under the loosened skin as evenly as possible. Transfer the turkey to the rack in the pan.
Roast the turkey for 1 hour and 45 minutes, or until it reaches an internal temperature of at least 170° F. Be sure the thermometer doesn't touch the bone.
Remove the turkey from the oven and let stand for 15 minutes.
Discard the skin and all visible fat. Slice the turkey and serve.
Nutritional Info (serving size: 3 oz. turkey):
Calories: 140, Fat: 4g, Carbs: 0, Fiber: 0, Sugar: 0, Protein: 25g