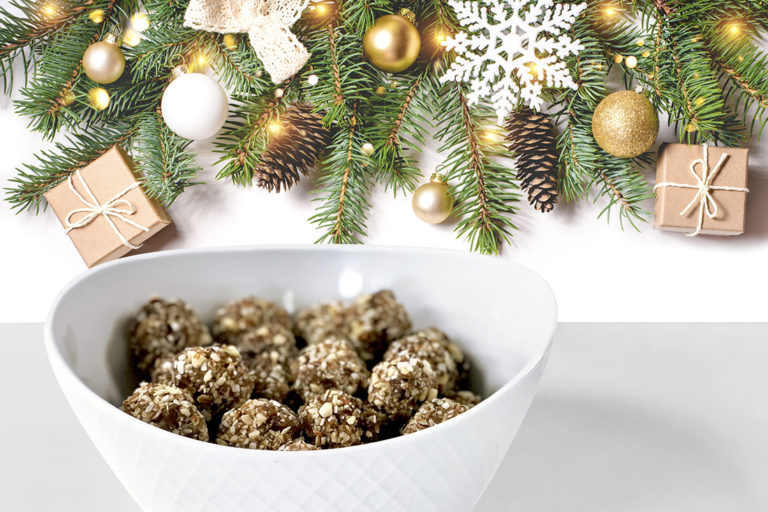 Makes approximately 35 Jingle Balls. Please note these are not low carb (see nutrition info below) but a natural sweet treat for the holidays (or any time you would like a little splurge).
Ingredients:
60 dates, pitted
2 c almonds (or any nut of choice)
1 c flaked or shredded unsweetened coconut
1 tsp vanilla
1 tsp pink salt
Directions:
Blend in a food processor* until a sticky consistency forms.
Roll into large marble sized balls. While forming the mixture into balls with your hands, it's best to pass the mixture from one palm to another, squeezing until the mixtures sticks/forms into a ball shape. Your hands will get sticky while forming the balls and you may need to rinse off your hands intermittently for them to form well.  The mixture should be crumbly but should stick together when squeezed. If it's too dry, add 2 extra dates and re-blend. If it's too wet, add more almond or coconut.
If you'd like, you can roll the balls in more shredded coconut, chopped nuts or raw cacao powder, but they are delicious as is!
Enjoy right away or refrigerate until ready to eat.
*We used a 7-cup food processor and we would not recommend going any smaller (also a blender doesn't work well for this recipe). We also recommend making half the recipe at a time.
Approximate Nutritional Info for 1 ball:
Calories: 90, Fat: 5g, Carbs: 11g, Fiber: 2g, Sugar: 8g, Protein: 2g