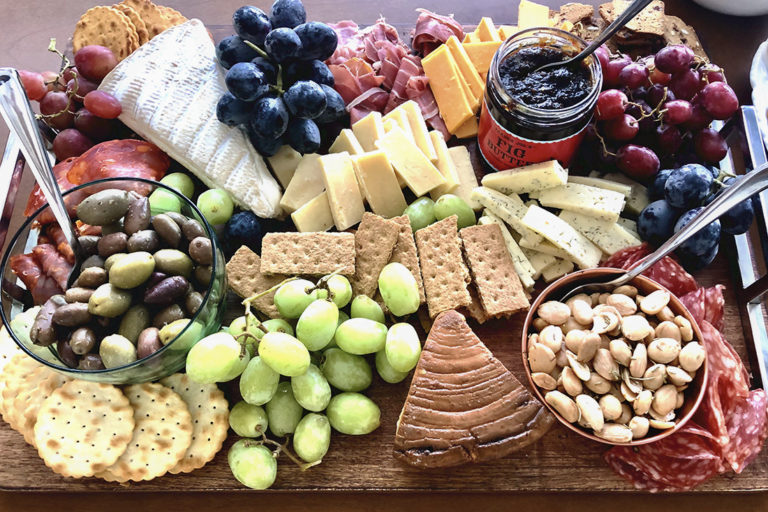 Our own in-house wellness coach Sarah created this beautiful arrangement for our Operations Director Jill, to celebrate Jill's 18 years at TCOYD!
The fun thing about charcuterie boards is that there are endless variations, and the boards can be as big or as small as you want them to be.  You can also add plenty of options for people with different dietary needs.
Here's what we used for ours:
1 bunch green grapes
1 bunch black grapes
1 bunch red grapes
Trader Joe's Greek Olive Medley
Trader Joe's Rosemary Marcona Almonds
Trader Joe's Fig Butter
Trader Joe's Pistachio Pomegranate Crisps
Trader Joe's Scalloped Cracker Trio
Trader Joe's Honey Graham Crackers
Columbus Sliced Peppered Salami
Daniele Gourmet Deli Selection meats
Trader Joe's Triple Cream Brie Cheese
Trader Joe's Sharp Cheddar Cheese
Trader Joe's Dill Havarti Cheese
Trader Joe's Blood Orange Chocolate Chip Ricotta Cheese
Kerry Gold Dubliner Cheese
For a lower carb board, you can substitute blackberries or blueberries for the grapes, a stone ground or specialty mustard for the spread, and lower carb crackers or chips.