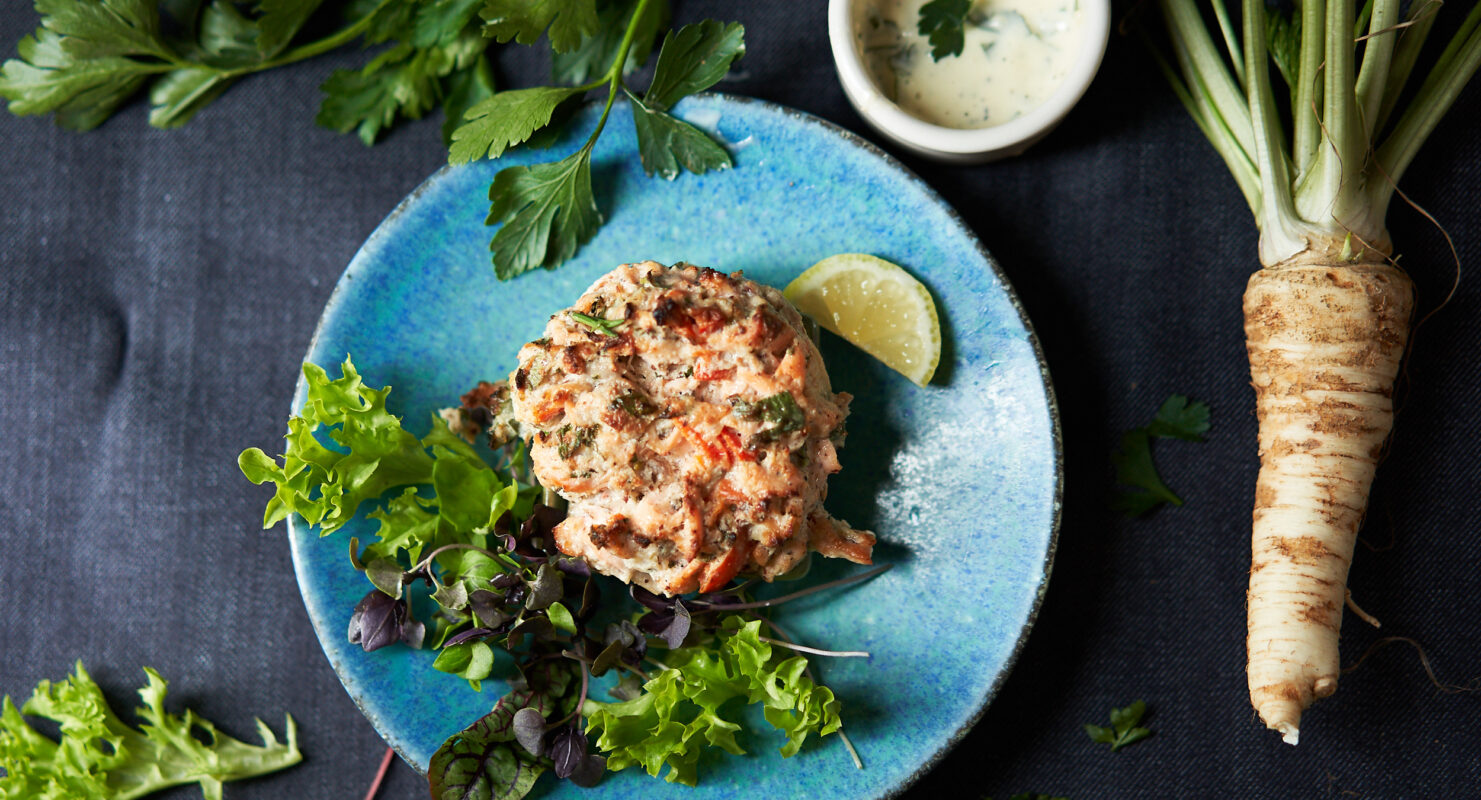 Jennifer Shun is the parent of a type 1 diabetic teen and is the author of For Good Measure, which features low-carb, farm-to-table California cuisine — a resource with specific ingredient lists and nutritional data geared to people living with diabetes.  Click here for the original recipe and notes.
Yield: 12
Ingredients:
For the Salmon Cakes:
2 pounds salmon, deboned
½ teaspoon salt
1 tablespoon butter
1 cup onion, chopped
1 cup red pepper, chopped
½ cup almond flour
½ cup parsley, chopped
3 tablespoons lemon juice
2 tablespoons avocado mayo
1 egg
2 teaspoons oregano
1 teaspoon garlic powder
1 teaspoon granulated onion
½ teaspoon black pepperFor the Lemon Herb Aioli
⅓ cup avocado mayo
¼ cup parsley, chopped
1 tablespoon lemon juice
1 teaspoon garlic, minced
½ teaspoon salt
¼ teaspoon pepper
Directions:
Preheat oven to 350 degrees.

Line a rimmed baking sheet with parchment.

Rinse salmon, pat dry and place skin-side down on prepared baking sheet.

Sprinkle with salt.

Bake for 15 minutes or until medium rare.

While salmon bakes, melt butter in a small skillet over medium heat.

Add onion and red pepper, sautéing until onions are translucent, about 10 minutes.

Set aside to cool.

Mix flour, parsley, lemon juice, mayo and egg in a large bowl until well combined.

Add onion mixture, mix well.

Add oregano, garlic powder, granulated onion and black pepper, mix well.

Once cool, remove flesh from salmon and discard skin and parchment.
Set oven to broil at 450 degrees. Line the baking sheet with fresh parchment.
Gently fold salmon into mixture until combined. Scoop ¼ cup portions of salmon mixture onto prepared baking sheet, press to flatten slightly. Bake for 10 minutes until golden.
Serve warm with 1 teaspoon lemon herb aioli.
To make the aioli, whisk mayo, parsley, lemon juice, garlic, salt and pepper in a small bowl. Store in a refrigerated airtight container, until served.
Naturally low-carb & gluten-free
Nutritional Info for 1 serving:
Calories: 216, Fat: 15, Carbs: 4g, Fiber: 1, Sugar: 1g, Protein: 16g