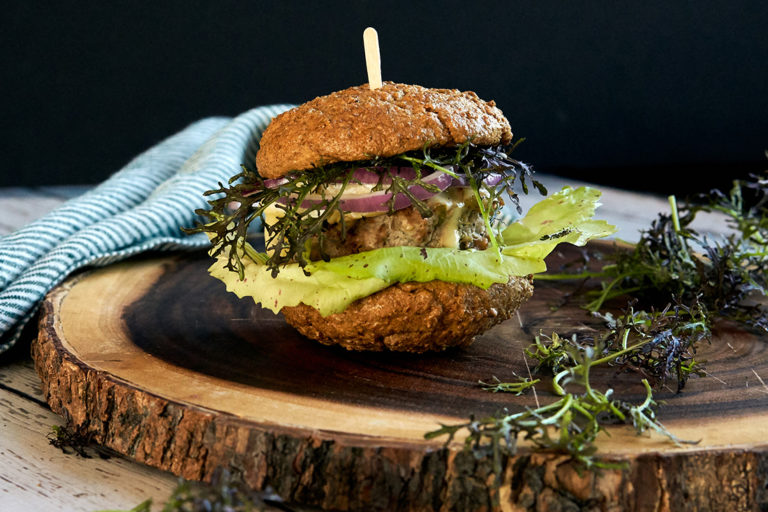 Jennifer Shun is the parent of a type 1 diabetic teen and is the author of For Good Measure, which features low-carb, farm-to-table California cuisine — a resource with specific ingredient lists and nutritional data geared to people living with diabetes.  Click here for the original recipe and notes. For a hearty low-carb bun recipe to go with the turkey burgers, click here.
Yield: 6
Ingredients:
1 teaspoon olive oil
2 teaspoons garlic, minced
½ cup celery, chopped
½ cup scallions, chopped
1 pound turkey, ground
½ cup Granny Smith apple, grated
1 tablespoon chives, chopped
1 tablespoon fresh thyme
1 teaspoon salt
¼ teaspoon black pepper
Directions:
Clean, grease & preheat grill to medium-high.

Heat olive oil in a small skillet over medium heat.

Add garlic, celery and scallions, sautéing until slightly brown about 5 minutes.

Set aside to cool.

Mix turkey, apple, chives, thyme, salt & pepper  in a large bowl until well combined.

Add celery mixture, mix well.

Form into six patties, approximately ⅓ cup each.

Cook burgers on preheated grill, until interior reaches 165༠ F, approximately 5 minutes per side.
Naturally low-carb & gluten-free
Nutritional Information for 1 patty:
Calories: 140, Fat: 7g, Carbs: 3g, Fiber: 1g, Sugars: 1g, Protein: 15g