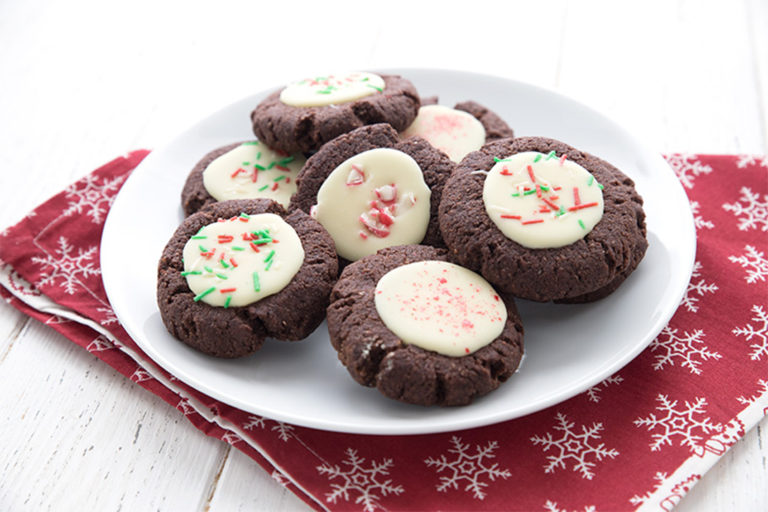 This recipe is shared with permission from All Day I Dream About Food. All Day I Dream About Food offers a huge selection of delicious low carb, gluten-free, dairy-free and keto recipes. Click here to see the original recipe and notes for the peppermint bark cookies.
Ingredients:
Chocolate Cookies:
White Chocolate Filling
 Garnish
Sugar free sprinkles, sanding "sugar" or edible glitter (optional)
Instructions:
 Chocolate Cookies:
Preheat the oven to 325F and line a large baking sheet (or two smaller ones) with silicone liners or parchment paper.
In a large bowl, beat the butter with the sweetener until lightened and well combined, about 2 minutes. Beat in the egg and vanilla extract.
Add the almond flour, cocoa powder, baking powder and salt and beat until well combined. Roll the dough into 1 1/2 inch balls and place a few inches apart on the prepared baking sheet(s) – you should get about 18 large cookies. Press down with the heel of your hand to about 1/2 inch thick.
Use your thump or a blunt rounded kitchen utensil to make an indentation in the center of each. I like to use the rounded end of my stone pestel but the back of a rounded tablespoon works as well.
Bake 12 minutes, until the cookies are puffy but still quite soft to the touch. Remove and immediately re-indent the centers (they puff up a little during baking). Let cool on the pan.
White Chocolate Filling:
In a heatproof bowl set over a pan of barely simmering water, combine the white chocolate and cocoa butter. Stir until melted and smooth. Stir in the extract.
Spoon the white chocolate into the wells in the center of each cookie. Sprinkle with a few sugar-free sprinkles, if desired.
Let set 1 hour. You can also refrigerate to set the chocolate faster.
Nutritional Info for 1 cookie:
Calories: 153, Fat: 14.1g, carbs: 6.2g, fiber: 3.2, Protein: 3.4