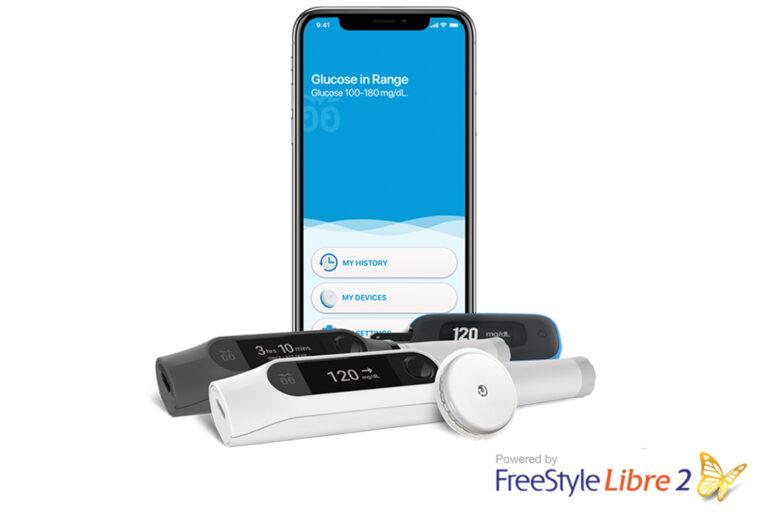 by Christina Bode, RD, CDCES & Ellen Ospelt, RN, CDCES, Senior Clinical Educators at Bigfoot Biomedical
In May, Bigfoot Biomedical received FDA clearance for its Bigfoot UnityTM Diabetes Management System. The system features first-of-its-kind connected smart pen caps for all major U.S. brands of disposable insulin pens and integrates with Abbott's FreeStyle® Libre 2 sensor. The Bigfoot Unity System aims to reduce the burden of diabetes by minimizing guesswork and supporting you to follow your doctor's instructions in a convenient, simple way.
The Bigfoot Unity System is for people with type 1 or type 2 diabetes who are candidates for multiple daily injections of insulin therapy, and are 12 years and older. The Bigfoot Unity System includes two smart pen caps, one for your rapid-acting insulin pen and one for your long-acting insulin pen, a mobile app, and the FreeStyle Libre 2 sensor.
The Bigfoot Unity white pen cap for your rapid-acting insulin pen allows you to scan the FreeStyle Libre 2 sensor to display your current glucose value, trend arrow and any recommended correction dose based on your provider's instructions. The Bigfoot Unity smart pen cap also directly displays your provider's suggested meal insulin doses with the correction dose as well as the time since your last dose. Having this information conveniently displayed on the white pen cap allows you to make real-time diabetes treatment decisions. Additionally, a connected Bigfoot blood glucose meter can be used with the Bigfoot Unity System as backup.
The Bigfoot Unity black pen cap for your long-acting insulin displays the time since your last dose and the recommended long-acting insulin dose.
The Bigfoot Unity App for iPhone provides real-time glucose alerts, automatically stores your glucose and insulin data, and transmits your data to the cloud whenever WiFi or cellular signal is present for easy access by your healthcare provider.
Setting up and learning how to use new medical devices can be overwhelming.  Everyone who receives the Bigfoot Unity Diabetes Management System will also receive individualized live training from one of the CDCES Certified Bigfoot Trainers. This unique and innovative training session is provided via Zoom for Healthcare and is scheduled to accommodate people's busy schedules.
There are three goals for the training:
To assist the person living with diabetes with getting started on the Bigfoot Unity System
To demonstrate how the Bigfoot Unity System is designed to be a partner in simplifying their diabetes management
To provide resources and training to enable new users to successfully demonstrate  use and understanding of the Bigfoot Unity System
Prior to the training appointment, the Bigfoot team will take time to learn about each new user. We are especially interested in their history with diabetes and experience with diabetes management technology.  For example, since the Bigfoot Unity System is integrated with Abbott's FreeStyle Libre 2 sensor, we ensure the sensor portion of training is scaled to the patient's previous experience (or lack of) with CGM technology.
The training begins with the  trainer supporting the patient in entering the correct insulin settings per their healthcare provider's prescription. Next, the trainer will help the patient set up and learn how to use Bigfoot Unity. This  is supported by videos, interactive learning screens and knowledge checks-all embedded in the Bigfoot Unity App. The final activity is a session with the Training Simulator, a state-of-the-art platform that allows new users the opportunity to practice with a virtual system without generating false data or compromising their recently set up Bigfoot Unity System. Patients are presented with a series of real-world diabetes scenarios and must demonstrate to the trainer how they will use Bigfoot Unity to help manage their diabetes in each scenario. This final activity allows the trainer to confirm that the user has successfully completed the training.
The Bigfoot team is very excited to bring our Bigfoot Unity Diabetes Management System and our innovative patient training program to market and help people living with diabetes simplify their diabetes management. We look forward to partnering with both patients and healthcare providers every step of the way!
More information about Bigfoot Unity is available at www.bigfootbiomedical.com/bigfoot-unity along with this brief product video.
Important Safety Information for the Bigfoot Unity Diabetes Management System
The Bigfoot Unity System is indicated for management of diabetes in persons 12 years and older. Bigfoot Unity provides glucose monitoring data via the Abbott FreeStyle Libre 2 Flash Glucose Monitoring sensor. The system incorporates real-time alarm capabilities and is designed to replace blood glucose testing for diabetes treatment decisions, unless otherwise indicated. The device is intended to provide insulin dose information using the available glucose data to assist persons with diabetes mellitus who use disposable pen-injectors for the self-injection of insulin in implementing health care provider recommended insulin dose regimens. The system must not be used with automated insulin dosing (AID) systems, including closed loop and insulin suspend systems.
 
The Bigfoot Unity System requires a prescription. A health care provider must supply appropriate settings for the device based on user specific criteria. It is not intended to be used by individuals who dose insulin in ½ unit increments, take multiple daily doses of long-acting insulin or take high doses of vitamin C (more than 500 mg per day).
The system provides dose recommendations; however, the final decision on when and how to dose is up to the individual user. Failure to use the system according to the instructions for use may result in missing a severe low blood glucose or high blood glucose event and/or making a treatment decision that may result in injury.
For complete details of the system and its components, including warnings, contraindications, and precautions, please consult the Bigfoot Unity User Guide.
The circular shape of the sensor housing, FreeStyle, Libre, and related brand marks are marks of Abbott and used with permission.