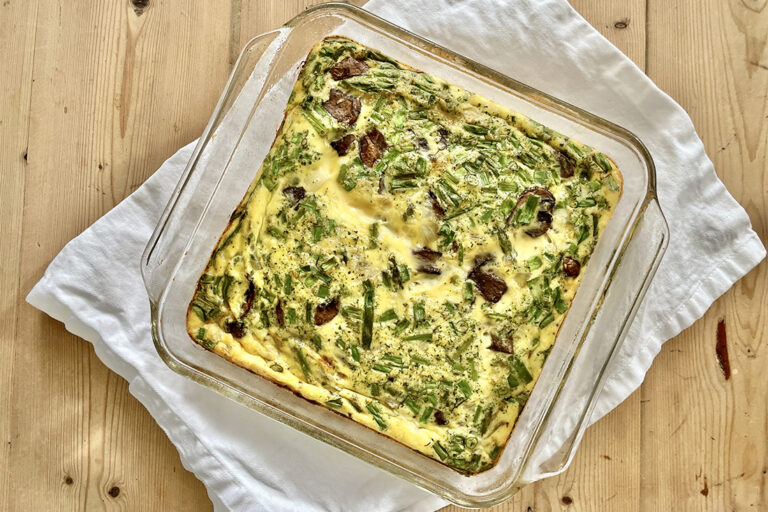 This light veggie quiche, created by our Continuing Medical Education Manager Sarah, is made without a traditional quiche crust in order to keep the carbs down. You can tailor it to your tastes with your favorite veggies and cheese, and pair it with these Cauliflower Hash Browns for breakfast, lunch, or dinner.
Servings: 9 (unless you are really hungry!)
Ingredients:
8 eggs
1 cup milk or milk alternative (I used hemp milk, purchased from Trader Joe's)
1-2 tablespoons seasoning (I used Green Goddess Seasoning from Trader Joe's)
1 cup shredded cheese (I used a Swiss/Gruyere blend)
1 cup sautéed veggies of choice (I used chopped asparagus, mushrooms, and white onion)
3 tablespoons finely chopped green onions, plus 2 tablespoons for garnish
Salt/pepper to taste
¼ cup (1-2 oz) crumbled goat cheese
Directions:
Preheat oven to 350 degrees.
Chop and sauté veggies in a large skillet over medium heat.
Crack eggs into a large mixing bowl and whisk.
Add seasoning, milk, and cheese to eggs, and whisk again until combined.
Add sautéed veggies and freshly chopped green onion, and whisk together.
Spray a 9×9 glass baking dish (or 9″ glass pie dish) with nonstick cooking spray and pour egg mixture into dish.
Bake for 40-45 minutes, or until set in the middle.
Garnish with more fresh green onion, crumbled goat cheese, and salt and pepper, if desired.
Approximate Nutritional Info (for one serving):
Calories: 140, Fat: 10g, Carbs: 2g, Fiber: .5g, Sugar: .5g, Protein: 10.5g