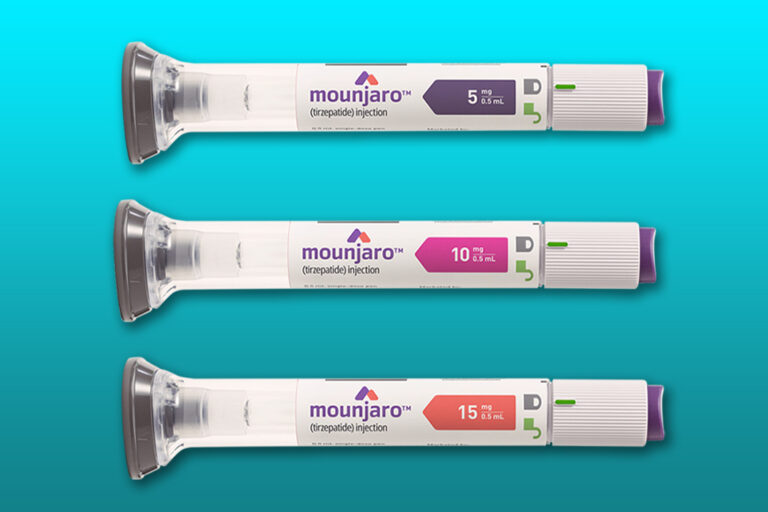 Over 30 million Americans have type 2 diabetes, and many are not reaching their A1c targets. As an endocrinologist who treats people with type 2, I'm always excited about novel interventions that indicate significant positive outcomes. On May 13th, the FDA granted approval to a potential blockbuster addition to the growing number of type 2 treatments in our arsenal: a new medication called Mounjaro (tirzepatide). With clinical trials demonstrating safety and effectiveness for lowering A1c and promoting weight loss in people with type 2, Eli Lilly's latest endeavor is poised to be an industry disrupter.
How It Works
This novel therapy builds upon the successes of currently available incretin-based therapies. Incretins are a class of hormones that includes glucagon-like peptide-1 (GLP-1) and gastric inhibitory peptide (GIP). These gut-derived hormones are released in response to food intake, and have the following effects:
Promoting insulin release (insulin lowers blood sugar)
Blocking glucagon release (glucagon raises blood sugar)
Delaying gastric emptying to prevent post-meal highs
Promoting a feeling of fullness so you eat less at any given meal
Previously approved incretin-based therapies mimic only the GLP-1 hormone. Due to their effect of blood sugar lowering and weight loss, they are widely used in the treatment of type 2 diabetes and obesity. Examples of such therapies include semaglutide (Ozempic for diabetes, Wegovy for weight loss), liraglutide (Victoza for diabetes, Saxenda for weight loss), and dulaglutide (Trulicty). Because they are released in response to food intake, they are less associated with low blood sugar as is seen with other therapies such as insulin or sulfonylureas (ie- glipizide, glimepiride, glyburide).
Tizepatide, rather, mimics the action of both incretin gut hormones (GLP-1 and GIP) by acting on both of their receptors, and thus has been dubbed a "twincretin." Similar to some of the other GLP-1 medications, it can be dosed once weekly.
Is This New Combination Safe and Effective?
The SURPASS trials, sponsored by pharmaceutical manufacturer Eli Lilly, assessed Mounjaro (tirzepatide) in people with type 2 diabetes and obesity.
In these trials, tirzepatide was given at doses of 5mg, 10mg, or 15mg. When compared to participants not taking any diabetes medications, those using tirzepatide realized around a 2% decrease in their A1c levels. To underscore the magnitude of this drop, if you had an A1c of 8.5%, it would drop to 6.5% after several months of therapy. In a second trial, when tirzepatide was compared to Ozempic, participants on the novel therapy experienced an even greater decrease in their A1c levels (2.30% vs 1.86% for Ozempic). In a third trial comparing participants using tirzepatide with those on Tresiba (insulin degludec), the tirzepatide group again had greater reductions in A1c levels. Remarkably, 82-93% of the tirzepatide participants in this study reached an A1c level of less than 7%, versus 61% with insulin degludec. As expected, the insulin group experienced more frequent low blood sugar levels and had weight gain, instead of the weight loss experienced with tirzepatide.
In late April 2022, Eli Lilly released preliminary results from the SURMOUNT-1 trial that included overweight and obese patients using tirzepatide who did not have diabetes. Strikingly, at the highest doses and at 72 weeks, participants lost up to 22.5% of their body weight. To underscore the magnitude of the weight loss observed, if you weighed 250 lbs before starting tirzepatide, you would have lost over 56 lbs on average after several months of therapy. This rivals the Novo Nordisk product for weight loss that was FDA approved in June 2021, a GLP-1 mimicker Wegovy (semaglutide), in which people have also been reported to lose over 15% percent of their starting body weight.
Additional trials for tirzepatide will include its effect in people who have non-alcoholic fatty liver disease and congestive heart failure.
Side Effects
As with the GLP-1 mimickers currently on the market, gastrointestinal side effects were commonly reported including nausea, vomiting, diarrhea, and constipation, and they were more often associated with dose increases. Tirzepatide alone was not associated with a significantly increased risk of low blood sugar, particularly when compared to insulin as seen in the SURPASS trials. Further, data demonstrated that many participants reported the gastrointestinal side effects improved with slow titrating over time.
As with all other GLP-1 receptor agonists on the market, tirzepatide can cause thyroid C-cell tumors in rats. It is unknown if this is the case in humans. However, it should not be used by people with a personal or family history of medullary thyroid cancer or multiple endocrine neoplasia type 2. It also is not indicated for use in people with type 1 diabetes.
Access
Despite their effectiveness, many insurance providers do not offer coverage for these medications for the indication of "weight management", making them cost prohibitive and resultantly inaccessible. I do think things will change for the better in this area. It is always a good idea to check out the company website for assistance programs. When it comes to getting any medication or device that may help you, you must be your own advocate and be persistent with the help of your healthcare provider in your quest to obtain them.
Is Mounjaro Right for You?
As evidenced in the SURPASS trials, this novel GIP/GLP-1 dual-acting hormone therapy is yielding significant improvements in A1c and weight loss. If the gastrointestinal side effects are tolerable, Mounjaro may prove to be the most effective medication available for people living with type 2 diabetes. Check out our video vault for more educational videos on treating type 2 diabetes.
If you have tried Mounjaro, please share your experiences in the comments below.
Additional Resources:
A Dose of Drs. E+P: Say "Buongiorno" to Mounjaro