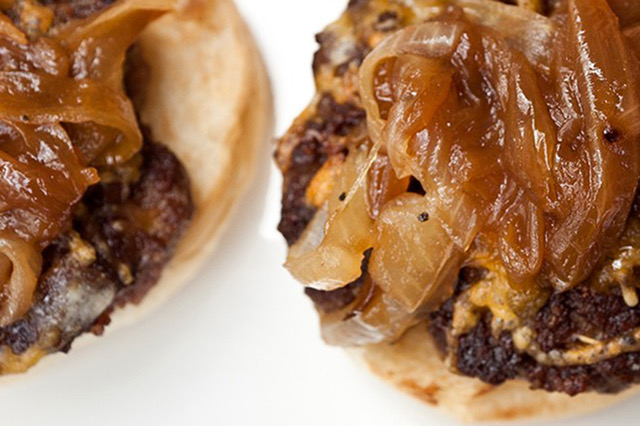 This recipe is from Teaming Up for Diabetes, a website dedicated to helping people with diabetes reach their management goals. Learn more about the support available at Teaming Up for Diabetes.
Servings: 6 sliders (with bun)
Ingredients:
2 teaspoons canola oil
3 cups thinly sliced Vidalia, Maui, or other sweet onion
1/2 teaspoon sea salt, or to taste
12 oz. lean ground beef sirloin
1 tablespoon organic ketchup
1 1/2 teaspoons steak sauce
1 large garlic clove, minced
1/4 teaspoon freshly ground black pepper, or to taste
6 (1-1/2 oz.) soft whole grain or other soft dinner rolls
6-12 organic baby arugula leaves (optional)
Directions:
Preheat a broiler or grill. Heat the oil in a large nonstick skillet over medium heat. Add the onion and 1/4 teaspoon salt. Cook, stirring constantly, for 15 minutes or until golden brown.
In a medium bowl, add the beef, ketchup, steak sauce, garlic, 1/4 teaspoon salt, and pepper. Combine with your hands until just mixed. Form into 6 burgers.
Grill burgers for one minute per side, or until medium well. Tip: These burgers are smaller than your average 1/4 lb burgers, so keep a close eye on how fast they cook. It's easy to overcook them and dry them out, so stay close to the grill.
Remove from heat and let the burgers sit for 3 to 5 minutes before placing in buns. Top each beef patty with about 2 tablespoons of caramelized onion and 1 to 2 arugula leaves (if you like). Serve with additional organic ketchup or other condiment of choice. Also, feel free to top with cheese (though this will change the nutritional information).
Nutritional Information for 1 slider with bun:
Calories: 201, Fat: 6g, Carbs: 24g, Fiber: 4g, Sugar: 5mg, Protein: 15g