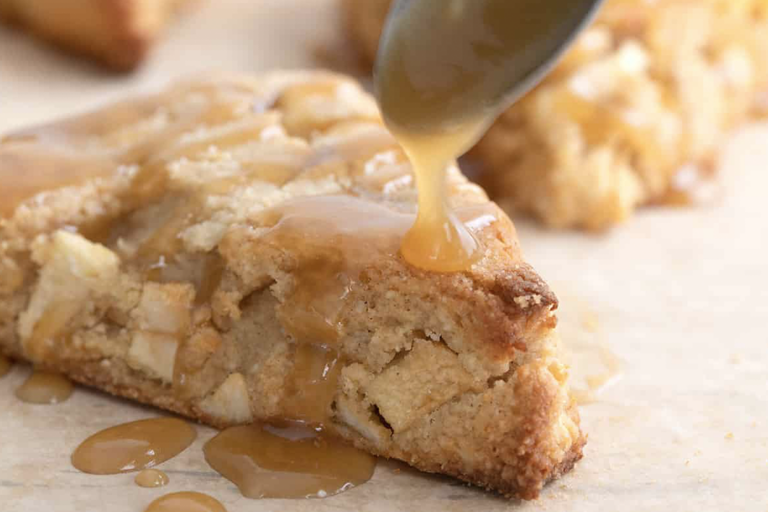 This recipe is from All Day I Dream About Food, where you'll find all kinds of delicious, low-carb recipe ideas for savory meals and sweet treats. Click here for the full Keto Caramel Apple Scones recipe plus additional notes, ingredient links and videos.
Servings: 8 scones
Ingredients:
1 ¼ cups almond flour
⅓ cup Swerve Brown
¼ cup coconut flour
2 teaspoons baking powder
½ teaspoon cinnamon
¼ teaspoon salt
¼ cup butter, frozen for about 30 minutes
1 large egg
2 tablespoons heavy whipping cream
½ teaspoon vanilla extract
½ cup finely diced apple
½ recipe Sugar-Free Caramel Sauce
Directions:
Preheat the oven to 325F and line a large baking sheet with a silicone mat. Lightly grease the baking mat.
In a large bowl, whisk together the almond flour, sweetener, coconut flour, baking powder, cinnamon, and salt.
Grate the chilled butter using a box grater. Sprinkle over the dry ingredients and toss to combine, making sure the butter is well distributed. Stir in the egg, cream, and vanilla extract until well combined. Gently fold in the diced apples.
Turn the dough out onto the prepared baking sheet and pat into a 7-inch circle. Use a very sharp knife to cut into 8 wedges, cutting straight down, rather than dragging the knife through the dough.
Wiggle under each wedge with a knife or offset spatula, and spread the scones around the baking sheet. Bake 20 to 25 minutes, until the edges are golden brown and the tops are firm to the touch.
Remove and let cool completely on the pan. Drizzle with caramel sauce just before serving.
Nutritional Information for 1 Serving:
Calories: 244, Fat 19.5g, Carbohydrates 7.7g, Fiber 3.2g, Protein 5.2g