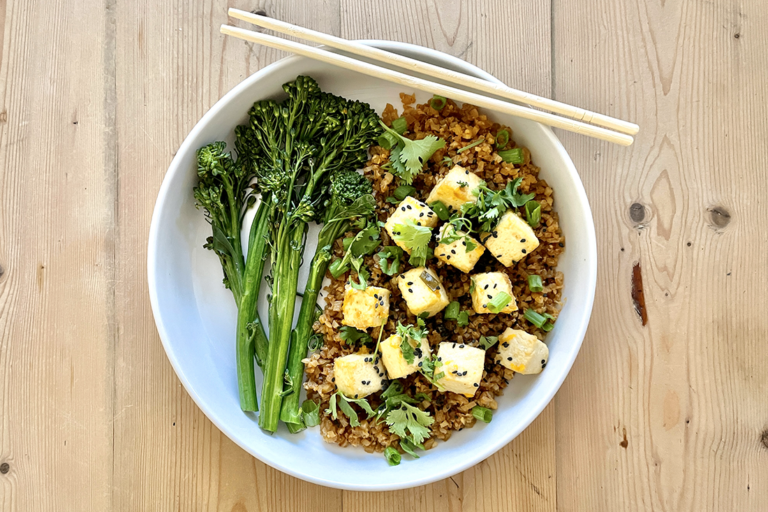 Crispy Orange Tofu is one of Dr. Edelman's favorite dishes, but the traditional recipe tends to be a little heavy on the carbs and sugar. This lightened up version from our Continuing Education Manager Sarah keeps the essence of flavor, but is easier on the blood sugars.
Servings: Makes 2 bowls
Ingredients:
For the orange sauce:
1 ½ cups water
⅓ cup rice vinegar
Juice of 2 lemons (approximately ¼ cup)
2 ½ tablespoons coconut aminos (soy sauce alternative)
Juice and zest of 1 orange (approximately ¼ cup)
¾ cup sugar substitute (I used Swerve)
¼ cup brown sugar (you can omit to reduce carbs/cals further)
1 teaspoon minced ginger or ginger powder (more or less to taste)
2 cloves garlic, minced (more or less to taste)
Pinch of red pepper flakes (more or less to taste)
~¼ cup chopped green onion
For the sides:
1 16 oz. package cauliflower rice
1/2 lb broccolini
For the garnishes (optional):
Green onion
Cilantro
Sesame seeds
Directions:
Prep ahead – press the tofu!  "Pressing" tofu removes excess moisture. Remove tofu from packaging and wrap in a few layers of paper towels. You may want to place it on a cutting board to protect your counter surface from moisture. You may also put a few heavy books or other objects on top of the block of tofu to aid in the moisture removal process. Press tofu for 30 min-1 hr.
Once tofu has been pressed, cut into 1-inch cubes and layer on a sheet pan covered with parchment paper. Bake at 400 degrees for 15 minutes. Toss/flip tofu cubes and bake them for another 15 minutes.
While the tofu is baking, prepare the sauce. Combine all sauce ingredients in a medium saucepan, bring to a boil, remove from heat and let cool.
While the sauce is coming to a boil, steam the cauliflower rice and broccolini in a shallow pan. Put approximately three tablespoons water in the pan, add the veggies and cover. Cook over medium heat for about six minutes or until tender/cooked. You can do this in the same pan either simultaneously or one after the other. You may also sauté the veggies in a little sesame oil (or other cooking oil) and coconut aminos for added flavor, but steaming will omit the need for added oil.
When the tofu is done baking, add it to a bowl and cover it with the orange sauce to marinate a bit and soak up the aromatic flavors.
To plate, make a bed of the broccolini and cauliflower rice. You may want to add some of the excess orange sauce to the rice if you did not already flavor it during the cooking process. Using tongs or a slotted spoon, add as much tofu as you'd like on top of the rice. Garnish with chopped green onions, cilantro, and sesame seeds.
Approximate nutritional information for 1 serving (using 3/4 of the sauce split between two bowls):
Calories: 358.5, Fat: 9.5g, Carbs: 47g (net: 34.5g), Fiber: 12.5g, Sugar: 27g, Protein: 27g