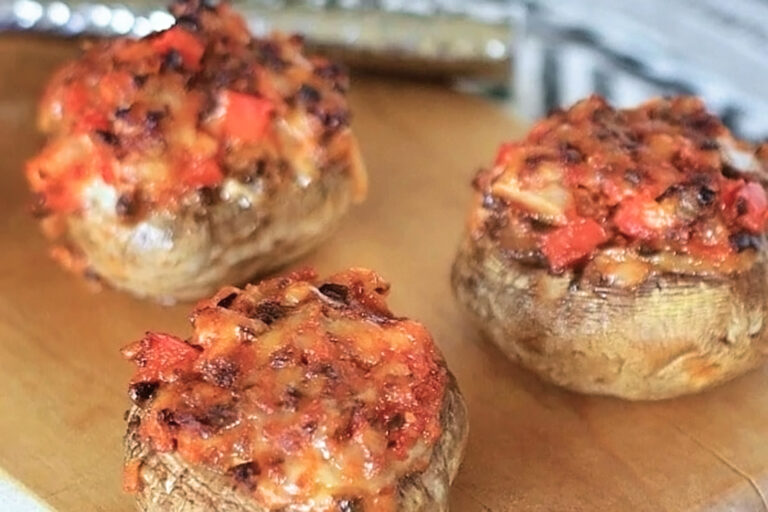 E.A. Stewart, aka The Spicy RD, is an Integrative Dietitian Nutritionist, Health & Wellness Coach, Gluten-Free Blogger, Digestive Health Expert, Autoimmune Warrior, & Vibrant Aging Enthusiast. Visit her website for more healthy and delicious recipe ideas, a variety of cookbooks, and expert guidance on nutrition and healthy living.
Ingredients:
36 whole white mushrooms
8 ounces pepper jack cheese, grated
1/2 cup finely chopped onion
1/2 cup finely chopped red bell pepper
1  4.25 oz. can chopped olives
1  4.4 oz. tube double concentrated tomato paste
Instructions:
Preheat oven to 400 degrees Fahrenheit. Clean mushrooms, remove stems (save them for another recipe), and place them in 1 or 2 large baking dishes.
Combine grated cheese, onions, bell peppers, olives, and tomato paste in a mixing bowl, and stir until well mixed.
Place a heaping teaspoon of cheese mixture in each mushroom, then bake in oven for ~20 minutes, or until cheese is melted and bubbly, and mushrooms are cooked. Allow to cool for 5-10 minutes, then transfer to a serving platter, and enjoy while still warm.
Nutritional Information for 1 serving (4 mushrooms):
Calories: 38, Fat: 2g, Carbohydrates: 1g, Protein: 2g, Sugar: 1g