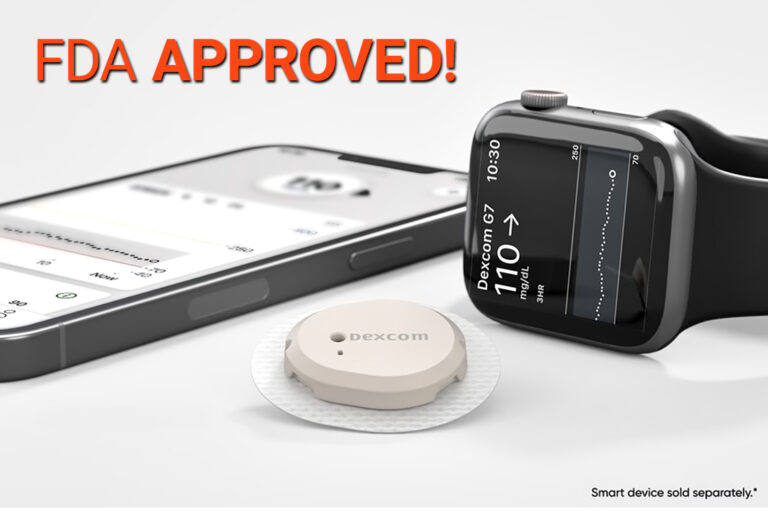 Updated 2/8/23
Even though we live in a continuously expanding diabetes tech age, we're always excited when a product we love gets an upgrade. On December 8, 2022, the next generation Dexcom G7 continuous glucose monitor (CGM) got the green light from the FDA, boasting a smaller, more accurate, and easier-to-use system than its predecessor, the Dexcom G6. The Dexcom G7 CGM is approved for people with all types of diabetes ages two and older, and it offers a redesigned and simplified mobile app for iOS and Android, integration with popular digital health apps, and connection to other wearables like the Apple Watch.
Why We're Excited
A few of our favorite features of the new system are the much shorter sensor warm-up time, the combined sensor and transmitter, and the ability to temporarily silence alarms. That last one is going to be HUGE! We have all forgotten to bolus for a meal or eaten more than we thought we would (or should), and when that happens your high alert starts going off when your numbers skyrocket high. With the Dexcom G7's new alarm setting you'll be able to turn that puppy off for up to six hours while your blood sugar works itself back down, without the piercing alarm reminding you (and everyone around you) every five seconds that yes, you're STILL HIGH.
Where were we? Oh yeah….
Here Are All the New Features of Dexcom G7 CGM:
It's 60% smaller than Dexcom G6, so it has a slimmer, trimmer, lower profile.
The all-in-one system is easier to use and has fewer components. The combined sensor and transmitter will require only one prescription, and you won't run into the issue of your transmitter and sensor not being synced up.
The sensor warmup time is only 30 minutes (the G6 is two hours).
There's a 12-hour grace period to replace finished sensors, making for a more seamless transition between sessions. It gives people leeway to find a convenient time to replace their sensor and adds to the duration of use.
With a MARD score of 8.2%, it is extremely accurate.  A MARD score stands for Mean Absolute Relative Difference, which is the standard way to measure continuous glucose accuracy. The lower percentage, the better, and 8.2 is excellent.
It has a completely redesigned and simplified mobile app with Dexcom Clarity integration.
There's a suite of improved customizable alert settings for more discretion. You can personalize your alerts, adjust the intensity, and as we mentioned earlier, you will be able to silence alerts for up to six hours. When you enable the alarm silencing feature, your normal settings will return once the silencing time period is up.
Kids between the ages of 2-17 can wear Dexcom G7 on their upper buttocks. Anyone two years old and over can wear it on the back of their upper arm. These are the official suggestions, but folks with diabetes wearing these devices are pretty  creative with places they put them. Many people will continue to use the abdomen, and Jeremy likes to wear his on his upper thigh (though when he wears his Speedos it is not covered up).
It has smaller plastic components and packaging so there's less waste than the G6.
It has a redesigned and optional receiver that's quite a bit smaller, and has an easier-to-read display.
The Following Dexcom G6 Features Will Still Be Included with the Dexcom G7 CGM:
Real-time glucose readings sent automatically every 5 minutes to a compatible display device.
A predictive low alert that can recognize potentially dangerous hypoglycemia incidences before they occur.
No finger sticks or calibration required (unless your symptoms don't match the value on  your CGM).
The ability to add a Siri shortcut: "Hey Siri, what's my glucose?"
Remote monitoring, enabling users to share glucose data with up to 10 followers.
New and Improved Adhesives
A new, white adhesive overlay designed for less skin irritation is included with every sensor, and Dexcom is looking at other adhesive options as well. So far there seems to be less skin irritation with Dexcom G7 users in their limited launch areas.
Dexcom G7 Availability, Integration, and Insurance
The Dexcom G7 is currently available in the UK, Ireland, Germany, Austria, and Hong Kong. It will be available in the U.S. starting February 17th, 2023. It will take a little while for the Dexcom G7 to integrate with hybrid closed-loop systems like Tandem's Control IQ and Insulet's Omnipod, but we're confident it won't be too long of a wait. Apparently if you are on a DIY Looping app, then it is ready to go right now!
Out-of-pocket costs for the Dexcom G7 are anticipated to be similar to the Dexcom G6. To facilitate immediate access to the Dexcom G7 for as many users as possible, Dexcom will have accessible cash payment options in place as they transition coverage availability for the Dexcom G7.
Continuous glucose monitors are one of the best tools we have to lower A1c, reduce hyperglycemia and hypoglycemia, and increase time in range. If you have type 1 diabetes, or if you have type 2 and are on at least three shots of insulin per day, continuous glucose monitors should be covered by your insurance. For more information, visit Dexcom.com.