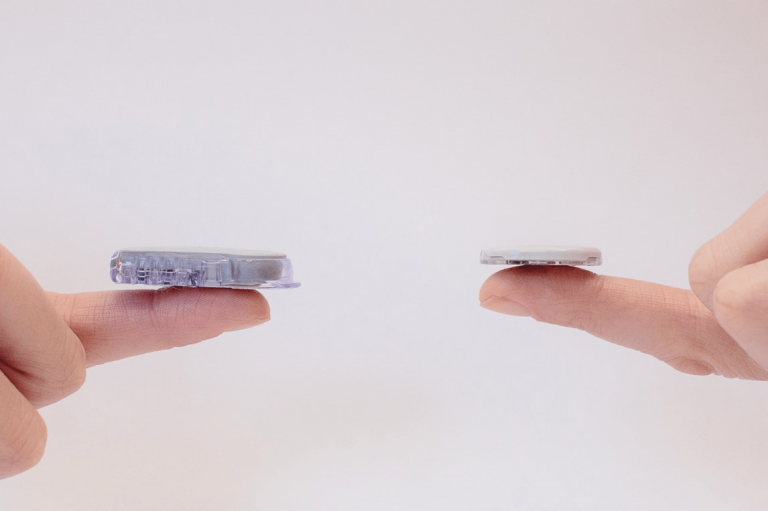 Updated 3-15-22
The Dexcom G6 was a game-changer, as it was the first CGM to end the daily torture of finger pricks. The G6 has only been out for a couple of years, but we're still anxiously awaiting the release of the G7, which is expected to get FDA approval this year. The G7 just received CE Mark approval in Europe.
How will the G7 be different than the G6?
The G7 will be about 60% smaller than the G6 – slimmer, more svelte, and easier to disguise under clothing so you can dig out your skin-tight leather pants and flaunt your spandex bike shorts worry-free.
The G7 will have a simplified application and a faster sensor warm-up time. If you're like me and your sensor often conks out right before bed, you won't be disconnected from your CGM for as long at an inconvenient time.
The transmitter and sensor on the G7 will be combined. It will be a fully disposable unit so you can toss everything at once.
Dexcom is currently conducting trials with the G7 on multiple wear locations including the abdomen and upper arm, so those of us who have been wearing the G6 all over our bodies illegally will be able to rejoin the rest of the diabetes rule-following civilized society.
The G7 will have a longer wear time (probably around two weeks or so), although the exact number of days is still TBD.
There will be a brand-new app experience so we can learn even more about our diabetes management. Sometimes we may not want to know, but it's there if we need it.
Dexcom is working with Lilly and Novo Nordisk on collaborations with their smart insulin pen technology for those on MDI.
What features are sticking around?
The G7 will still integrate with Tandem's CIQ, Omnipod DASH and the Omnipod 5 (also launching later this year). It will most likely also still work in conjunction with DIY Looping.
Optional calibrations will still be available.
The Bluetooth range will still be 20 feet.
Dexcom CGMs have been used in the type 1 population since their inception, but the technology can have great benefits for people living with type 2 as well. Check with your provider and/or health insurance to see if you are a candidate for CGM. With all  the technology we have on the market and more exciting products like the G7 coming down the pike, there's truly been no better time to have diabetes.
Additional Resources:
Dexcom's Next Gen G7 Gets FDA Clearance!
Dexcom G7 Gets the Green Light in Europe, and FreeStyle Libre 3 Available via NHS in the UK
My Transition from the Medtronic 670G to the Insulet Omnipod/Dexcom Pair
The Benefits of CGM and Time in Range for People with Type 2 Diabetes
Facebook Live: Everything You Need to Know about CGMs