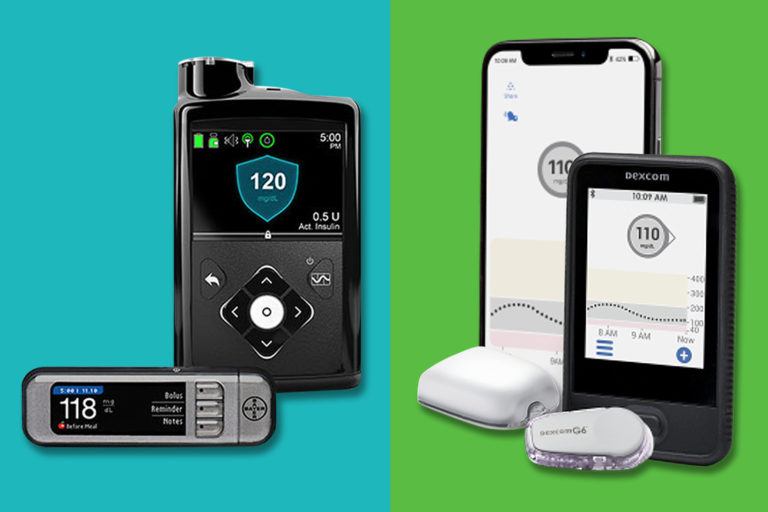 In the spirit of sharing one's own personal diabetes management experience to the benefit of others, I'd like to share with you my thought process, experiences and results in converting away from Medtronic's closed loop 670G system here on the left, to Insulet's OmniPod pump and Dexcom's G6 continuous glucose monitor (or CGM) on the right.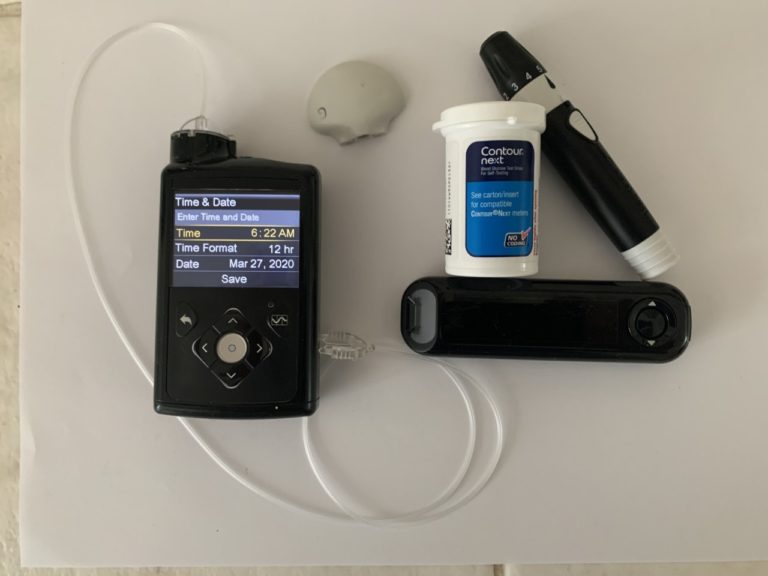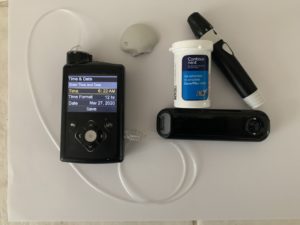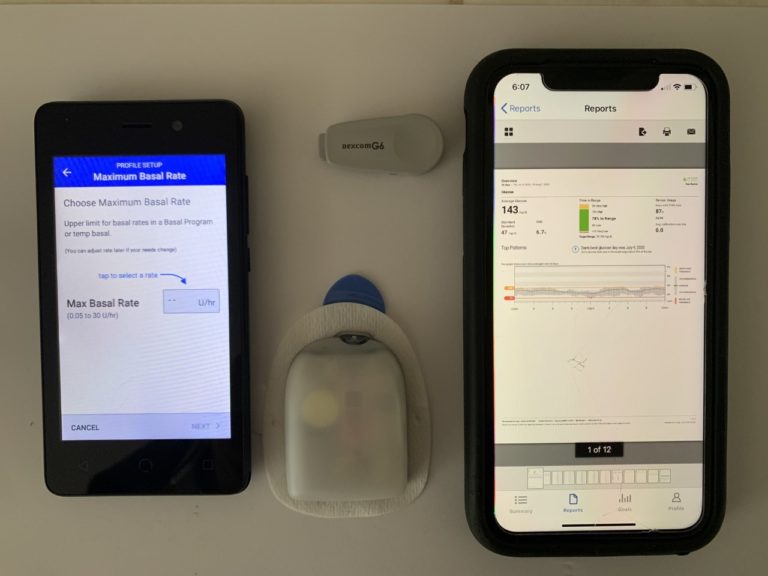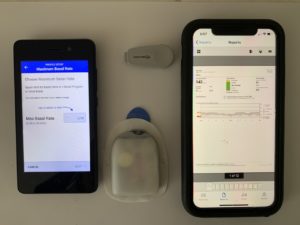 15 Years with Medtronic
Let me start by emphasizing that this was a Big Big Deal. After wearing the Medtronic for years as first a pump and then a combined CGM, the system had absolutely become an integral part of my life for the last fifteen years, all day, every day. I knew its controls, its sounds, its symbols, its logic, its software, its quirks and all those tricks no one wants you to even think about (let alone use) like unscrewing the reservoir from the pump rather than suspending. Shhhhh. Don't tell Medtronic. I also knew Medtronic's support team, ordering team, and had the complexities of insurance reimbursement well established. So yes, the change was a Big Big Deal.
So Why the Change?
I owe Medtronic a huge thank you for enabling me to live a fuller life with type 1 diabetes. And who knows, maybe I'll go back to Medtronic in the future. But honestly, a couple recalls and the loss of the ability to see my CGM results on my iPhone led me to seek alternatives. And that's when I was attracted to the Insulet OmniPod Dash and Dexcom's G6 CGM.
Managing the Change  
I was ready to get started – paperwork done, reimbursement assured, training completed. Time to make the crossover. But nervous. Was I really comfortable just changing from my one tried-and-true system to two others, as if this was some trivial lifestyle change like changing my shoe brand, Nike to Puma? No way. This was about managing my blood sugar, fully recognizing that a simple operational error or a misinterpretation of data on my part could have drastic consequences. This was a Big Big Deal.
Double Monitoring
That's when I realized that I still had about ten days' worth of Medtronic continuous monitoring available to me, along with a brand-new set of Dexcom sensors. Of course, double monitor! This would give me a chance to build confidence in the Dexcom solution – really understand its capabilities – while still having the Medtronic sensor as a backup or safety net. Brilliant. And so I did for 10 days, from March 13 – 23, 2020.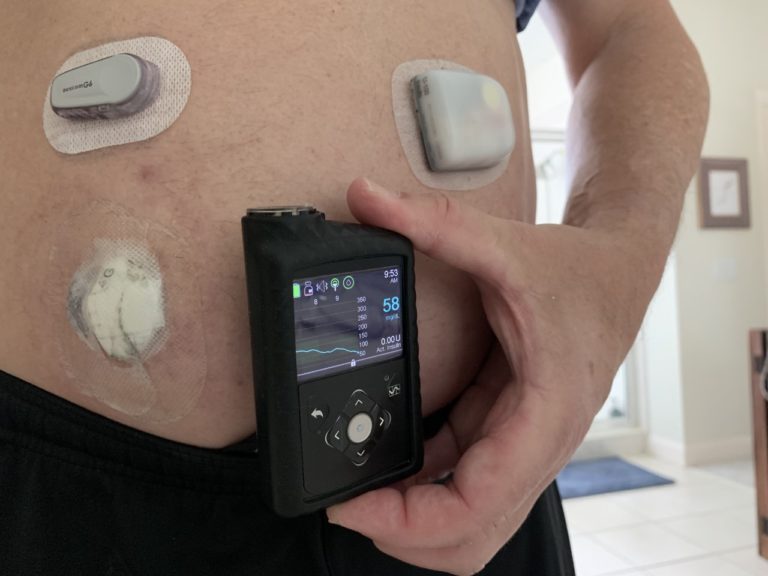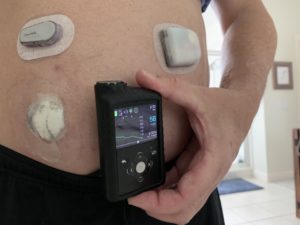 My Results
Over this 10-day period, I captured my blood sugar results on all three devices at the exact same time and plotted the difference between the Contour Blood Stick Meter and Medtronic in blue and Dexcom in orange.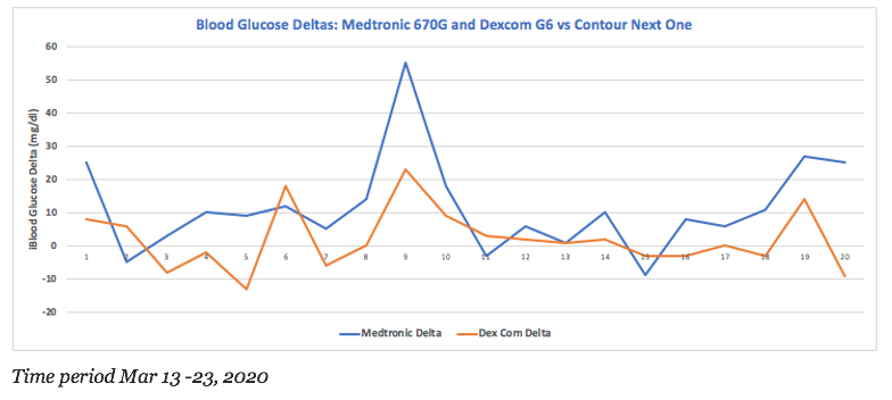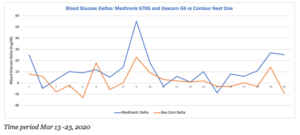 Key Results:
13 out of 20 times, Dexcom's values were closer to Contour's than Medtronic's, even though Medtronic was calibrated with the actual Contour value more than twice a day, Dexcom none.
Medtronic's values generally ran higher than the Contour's, 17 out of 20 times.
Dexcom's values were generally split higher/lower than the Contour's, 10 times higher, 8 times lower, and 2 times an exact match to Contour.
The largest deviation from Contour happened for data point 9. Medtronic came in at 185mg/dl, Dexcom 162mg/dl and Contour 130mg/dl.
 My goal of making sure I could trust and have confidence in Dexcom's values to manage my diabetes was accomplished. This was a Big Big Deal.
How It's Going – Pros & Cons
I've now been on the Dexcom/Insulet pair for about five months, and my blood sugar values have been great and improving.  See chart below.  My GMI is now at 7.0 and I'm working hard to push my Time-In-Range higher from 71% to a goal of 75%.  Unfortunately, in this COVID-19 environment, I don't have a recent A1C value as a before and after comparison, though I was generally at 7.5 or even higher when using the Medtronic system.


Dexcom/Insulet PROS:
For me, the biggest advantages have been:
No calibrations
No bloody, messy, untimely finger sticks
No expense. Medtronic can require as many as 4 calibrations a day, and with my insurance coverage that translates to  $0.33 each or about $40/mo
No annoying beeping, buzzing reminders to calibrate
No tubing  
No wasted insulin filling up lengthy tubing
No tubing to hide under clothing for discreetness
No unintended tears off the body when the tubing inadvertently lassos itself around a doorknob or other catches
No loss in CGM values during:
Downtime to recharge sensor
Warmup of new sensor every 7 days
No loss in insulin delivery during:
Showers
Swimming
Vigorous exercise
Ability to see blood sugars, trends and reports right from the iPhone
 These are all a Big Big Deal.
Dexcom/Insulet CONS:
For me, the biggest disadvantages have been:
Avoidable highs and lows. Since Medtronic's pump also knows your blood sugar value from its own CGM, it is able to increase insulin delivery automatically during highs, and suspend insulin delivery during lows. This provides an extremely important safety net without any involvement by me. Especially during sleep.
Not an integrated solution. Medtronic's Pump/CGM pair provides for a common set of user experiences – not two – same controls, same sounds, same logic. Versus two different approaches that must be learned for both Dexcom and Insulet. Medtronic's solution is all managed through its one pump interface, whereas the Dexcom is operated from my iPhone and the Insulet pump from a separate Android-like device.
These too are a Big Big Deal.
Tips:
If you find yourself in a position where you are looking to convert from Medtronic to the Dexcom/Insulet pair or vice versa, or you are considering any change in your measurement tools, give double monitoring a try.  I think it will ease your concerns, give you time to learn your new system, and build your confidence in new approaches to improving blood sugars. And that is a Big Big Deal.
I hope this has been helpful.  Good Luck my friends.
Additional Resources:
The Omnipod 5 Is Finally Approved!
Dexcom's Next Gen G7 Gets FDA Clearance!