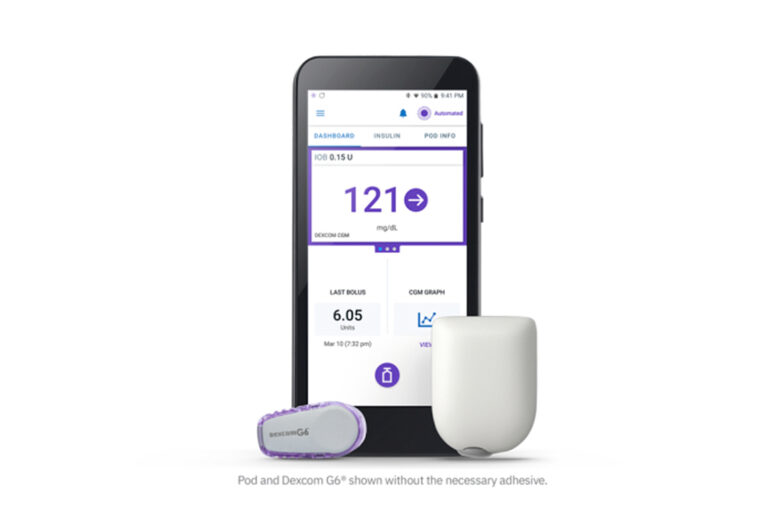 The Omnipod 5 was recently cleared by the FDA after a very long wait!
For those of you folks living in a cave who've never heard of the Omnipod, it's a patch pump without the tubing that's typically used in traditional pumps, and it can be placed pretty much anywhere on your body. It holds 200 units of fast-acting insulin, and it stays active for 80 hours before it shuts off and a new one needs to be filled and activated. It's waterproof and you can swim with it (but if you don't know how to swim, don't try it just because you got an Omnipod!)
The Omnipod 5 is a hybrid closed-loop AID (automated insulin delivery) device in the same category as the very first Medtronic 670G, the Tandem Control-IQ, and DIY (do it yourself) open source systems such as "Looping".  As someone living with T1D for over 50 years and an endocrinologist specializing in diabetes, I am just amazed how these systems have totally transformed the care of people with type 1, and now we have four systems to choose from!
All of these hybrid closed-loop (HCL) systems with modulating basal rates that deliver insulin based on predicted glucose values from CGMs are designed to improve time in range (the percent of time spent between 70 and 180 mg/dL) while minimizing hypoglycemia. The data presented and published on the clinical trials over the past few years evaluating the Omnipod 5 in adults demonstrate the ability to obtain an A1c very close to 7%, time in range of about 74%, and time below range (lower than 70 mg/dL) of less than 2%. There have been no studies measuring one HCL system against another, but one thing is for certain – these systems perform better in terms of time in range, A1c, hypoglycemia, etc. than pumps and CGM devices that do not communicate with each other! It is so awesome to have choices and to be able to get the system that best fits your individual needs.
So what do you need to get started on the Omnipod 5 system? It's important to note that the current Omnipod system and Omnipod DASH Pods/PDM are not compatible with the new Omnipod 5 system. The new Omnipod 5 Pod includes a built-in algorithm for automated insulin delivery, Bluetooth for communication with the Dexcom G6 CGM, and the controller software specifically for the Omnipod 5 Pod. Current Omnipod users (those who have DASH or the older Eros Pods) will need to make sure they get the Omnipod 5 Pods and the new controller (which is like an Android phone but without phone capabilities). The new controller will be supplied free of charge. There will be a limited launch of the Omnipod 5 at first, so you may need to be patient. They eventually will be easier to get because they'll be distributed directly from pharmacies, but you will need a prescription from your doctor. So much better than going through those bureaucratic and obstructive diabetes supply companies!
At this time, only the Android phone can be used as the controller, and not an iPhone. If you are an Android user, you can control your system with your personal smartphone, but if you are an iPhone user you will also need to carry the Android controller.
Some specific features of the Omnipod 5 include:
The ability to set your goal range between 110 and 150mg/dL
An exercise glucose mode set at 150 mg/dL with reduced insulin
Boluses given every five minutes that will increase, decrease, or pause based on your 60-minute predicted glucose
What about compatibility with the Dexcom G7 CGM that may be coming out later this year? Currently the Omnipod 5 is not compatible, but I bet both Dexcom and Insulet (the makers of Omnipod) are working on this issue.
The FDA approval of the Omnipod 5 is awesome news, and it will hopefully increase the number of people with type 1 taking advantage of hybrid closed-loop technology, which will lead to better A1cs, improved time in range with minimal hypoglycemia, reduced acute and chronic complications, and greatly enhanced overall quality of life.
Additional Resources:
TCOYD Podcast #13 – Diabetes & Technology
My Transition from the Medtronic 670G to the Insulet Omnipod/Dexcom Pair
Dexcom's Next Gen G7 Gets FDA Clearance!