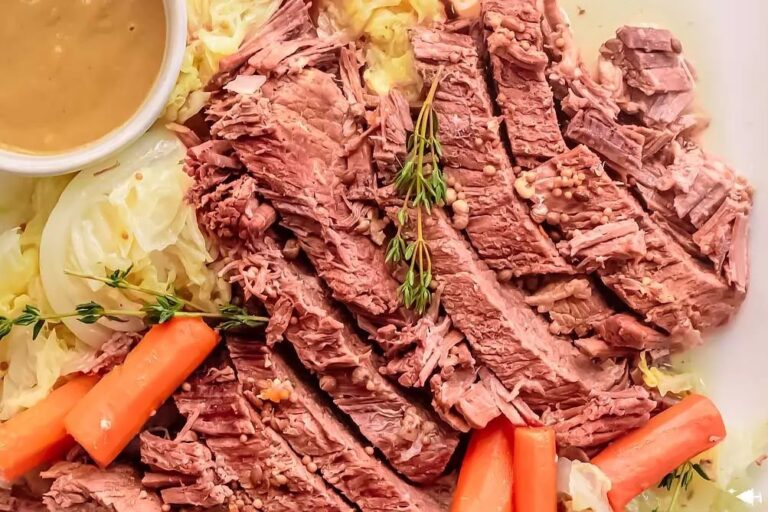 This recipe is from Little Pine Kitchen. Click here for the original recipe, notes, and tips for leftovers, plus lots of other delicious low-carb recipe ideas!
Servings: 4
Ingredients:
2.5 lb. beef brisket
4 cups water
3 bay leaves, torn
1 tablespoon black peppercorns
1 tablespoon coriander seeds
1 tablespoon yellow mustard seeds
4 garlic cloves, quartered
Optional Veggies:
1 medium onion, quartered
1 head cabbage, cut into 6 wedges
2 carrots, peeled + cut into 4 pieces
1/4 cup fresh flat-leaf parsley, chopped
Directions:
Place trivet at the bottom of the instant pot, and place brisket on top. If using a brined brisket, make sure to rinse before adding it. Pour water over the brisket, followed by the bay leaves, peppercorns, coriander seeds, mustard seeds, and garlic cloves.
Place lid on top and make sure the pressure release valve is set to "sealing". Set IP to high pressure for 90 minutes. Once done, turn the pressure release valve to "venting". Once the pin drops, remove the lid.
Check the corned beef. It should be fall-apart fork tender – if it's not, don't be afraid to cook it for another 10 minutes at a time until it is.
Use tongs to remove the corned beef to a large cutting board. Use a slotted spoon to remove and discard the aromatics. Spoon some of the cooking liquid over the corned beef, then loosely tent it with foil.
Add the carrots, cabbage, and onion to the IP. Seal and cook on high pressure for 3 minutes. This may take longer if you have a very large head of cabbage, so check and continue to cook until you've reached your desired doneness. When done, turn the pressure release valve to "venting" and remove the lid only after the pin has dropped.
Slice the corned beef against the grain before serving. Sprinkle with chopped parsley and serve with a side of the cooking liquid. Enjoy!
Notes:
If using a brined corned beef, feel free to skip the spices listed above, and be sure to rinse it thoroughly before adding it.
Veggies? You can skip these or add to them.
Potatoes? Feel free to add diced russet potatoes in with the veggies as well.
Nutritional Information for 1 Serving:
Calories: 494, Fat: 22g, Carbohydrates: 10g, Fiber: 3g, Sugar: 3g, Protein: 61g