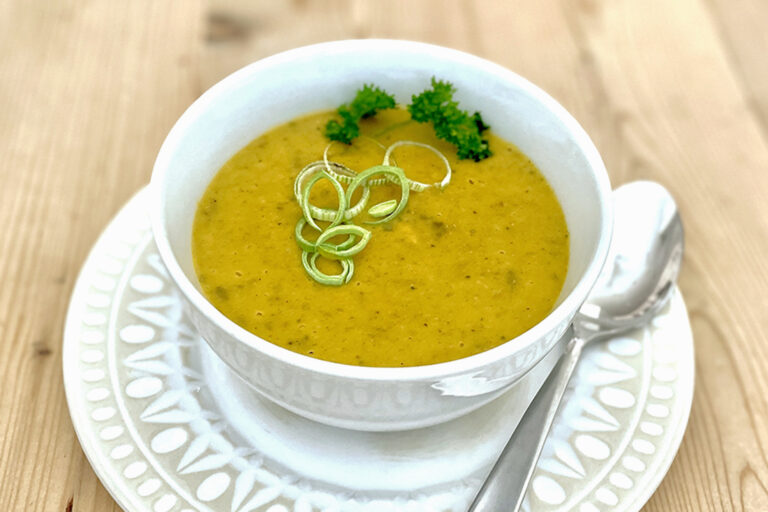 Our Continuing Medical Education Manager Sarah loves to create vegetarian and vegan recipes that are easy to make and taste great. Give this one a try – the potatoes make it thick, creamy, and comforting.
Makes 4-6  hearty servings of ~12 oz.
Ingredients:
~5 tablespoons olive oil
6 cloves garlic, crushed or minced (the more, the better, in my opinion!)
4 leeks, trimmed, cleaned, and chopped
5 small golden potatoes, washed and chopped
32 oz. low-sodium vegetable broth
1 tablespoon ground sage
1 tablespoon dried parsley
1 tablespoon ground thyme
1 teaspoon sea salt
1 teaspoon ground black pepper
Garnish Suggestions:
Sliced leeks
Fresh herbs
Crostini or croutons
Red pepper flakes
Drizzle of your favorite hot sauce
Directions:
In a large stock pot over medium heat, add two tablespoons olive oil and the minced garlic.
Add the leeks to the pot. Drizzle with more olive oil and stir.
Add the potatoes and veggie broth to the pot.
Bring everything to a boil, then simmer for about 15 minutes.
Use an immersion blender to blend the soup. If you don't have an immersion blender you can transfer the soup to a traditional blender, but be sure not to fill the blender all the way to the top. The liquid will rise as you blend, so you may have to do two rounds of blending.**
Add all of the seasoning, and stir well to mix evenly.
Approximate Nutritional Information for 1 Serving (one 12oz. bowl):
Calories: 230, Fat: 9.5g, Carbs: 35g, Fiber: 5g, Sugar: 30.5g, Protein: 20.5g
Notes:
Adjust seasonings to taste, adding more or less as desired. If you don't have a blender you can still enjoy the soup straight from the pot – just be sure to chop the leeks and potatoes into small pieces.