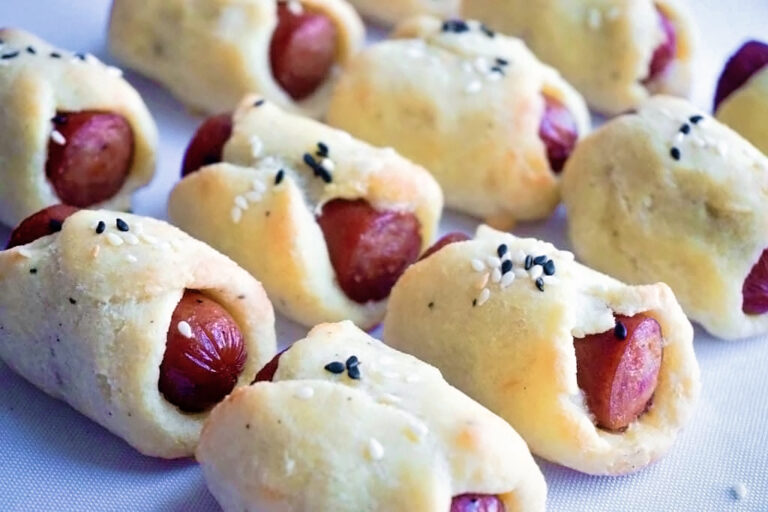 This recipe is from KetoConnect, where you'll find lots of delicious, low-carb recipe ideas. Here is the full Pigs in a Blanket recipe with additional notes and ingredient links.
Servings: 4
Ingredients:
4 medium hot dogs
1/2 cup shredded mozzarella cheese
3/4 cup almond flour
1 large egg
1/4 teaspoon baking powder
1/4 teaspoon garlic powder
1/2 teaspoon pink Himalayan salt
1/2 teaspoon sesame seeds
Instructions:
Preheat oven to 350 degrees.
Cut each hot dog into 3 equal-sized pieces and set aside.
Melt mozzarella in microwave, and add almond flour and egg. Stir to combine.
Add baking powder, garlic, and salt. Combine well. If the mixture starts to harden again you can pop it into the microwave for 10-15 seconds to loosen the cheese, but be careful not to cook the eggs.
Form the dough into 12 equal-sized pieces and roll them out into little ovals. Place them onto a baking sheet lined with parchment paper.
Place each hot dog piece into the dough and wrap it up like it's in a blanket. Sprinkle each one with sesame seeds (press them down so they stick to the dough).
Bake for 17-20 minutes, or until golden brown and cooked through. Serve warm and enjoy!
Nutritional Information for 1 serving (3 "pigs"):
Calories: 332, Fat: 27.5g, Carbohydrates: 7g, Fiber: 2g, Protein: 16g