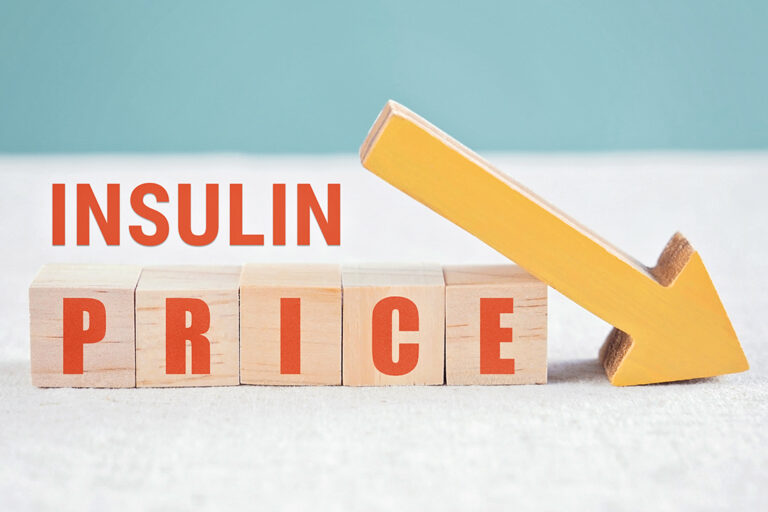 Insulin affordability has been a critical issue for people with diabetes for years, but in the last few months the three largest insulin manufacturers in the United States drastically reduced their insulin prices.
First Steps Toward Insulin Affordability
In August 2022, the Inflation Reduction Act (IRA) was passed by the U.S. Congress. Through this act (which took effect in January), insulin copays were capped at $35/month for people enrolled in Medicare. Starting July 1st, those enrolled in Medicare Part B who use an insulin pump furnished via durable medical equipment will no longer have a deductible for insulin. Instead, there will be a copay of only $35/month. For more information, visit Medicare.gov or refer to this cheat sheet: 7 Things to Know about Medicare Insulin Costs.
Not long after the Medicare changes went into effect, steps were taken by insulin manufacturers to address the needs of those enrolled in private and public insurance plans, as well as the uninsured.
Lilly Is the First to Cut Insulin Prices
On March 1st, Eli Lilly and Company announced a 70% price reduction on their insulin products. People with commercial insurance who use Lilly insulin will have out-of-pocket costs capped at $35/month at participating pharmacies.
People without insurance can go to InsulinAffordability.com and download the Lilly Insulin Value Program savings card to receive Lilly insulins for $35 per month. This savings card will also work for those with commercial insurance who use retail pharmacies not participating in the out-of-pocket cap.
In addition to these changes, Lilly announced that their newly launched Rezvoglar would be sold at $92 for a pack of five pens starting April 1st. Rezvolgar is a basal insulin that is biosimilar and interchangeable with Lantus (insulin glargine U-100). Other measures taken by Lilly include a reduction in Humalog (or insulin lispro) by 70% by the last quarter of this year, and a price of $25/vial beginning May 1st.
For more information, visit lilly.com/insulin.
Novo Nordisk Follows Suit
On March 4th, not long after Lilly announced their reductions in insulin prices, Novo Nordisk announced it would lower prices of their insulin products by up to 75%. The following changes are part of their initiative:
75% reduction in the current list price of Novolog (insulin aspart) and Novolog Mix 70/30 (insulin aspart protamine/insulin aspart)
65% reduction in the current list price of Novolin and Levemir
Reductions in the list price of unbranded biologics, insulin aspart, and insulin aspart protamine/insulin aspart, to match the lower price of the respective branded insulin, Novolog and Novolog Mix 70/30
A 30-day supply of a combination of insulin products (up to 3 vials or 2 packs of pens, 5 pens per pack) for $99/month for people without insurance
Copay savings cards for those eligible in commercial insurance plans that cap copays at $25-35/month
These changes go into effect on January 1, 2024. Click here for more information about Novo Nordisk price reductions and other Novo Nordisk affordability programs.
Sanofi Joins In
Just two days after the announcement from Novo Nordisk, Sanofi announced a 78% price cut on Lantus and a $35/month out-of-pocket cap on Lantus for those with commercial insurance. The $35/month cap applies to insulin sold at participating pharmacies or with a savings card. Sanofi is also cutting the list price of its short-acting Apidra (insulin glulisine) by 70%. These changes will go into effect on January 1, 2024.
Sanofi has a wide variety of savings programs available for a multitude of diabetes medications. To find the best program for you, contact their support team at (855) 984-6302 or visit their savings and support page here.
Visit our access page on the TCOYD website for more information on these savings programs and many others.
What Does the Future Hold for Insulin Affordability?
The changes announced by the three major U.S. insulin manufacturers stand as a testament to the initiatives, advocacy efforts, and work that has been done to address insulin affordability. This pivotal moment is just the start of a movement that continues to be addressed via advocacy efforts. Similar efforts to reduce insulin prices have been noticed through state legislatures. On March 20th it was announced that California was investing $50 million to partner with Civica Rx to produce their insulin sold at a capped price of $30/vial and $55/box of five prefilled pens.
Another major step towards insulin affordability is the proposed Affordable Insulin Now Act of 2023. The proposed bipartisan bill would require private or individual insurance plans to cap insulin prices at $35/month. In addition, this bill would require establishing a program that would reimburse for any costs exceeding $35/month for uninsured patients.
The tasks and challenges that come with living with diabetes are a full-time job in itself. Insulin affordability has been an ongoing issue for many years, but many organizations and companies are finally acknowledging this. Through their efforts, insulin affordability is a barrier that is being alleviated. Thanks to patient advocacy, the right moves are being taken to ensure that people with diabetes can get back to what is the most important aspect of all – their health.
Additional Resources:
TCOYD® Resource and Access Center
New Medicare Program Offers $35 Max Copay for Insulin
How to Find Help with Diabetes Medication Costs