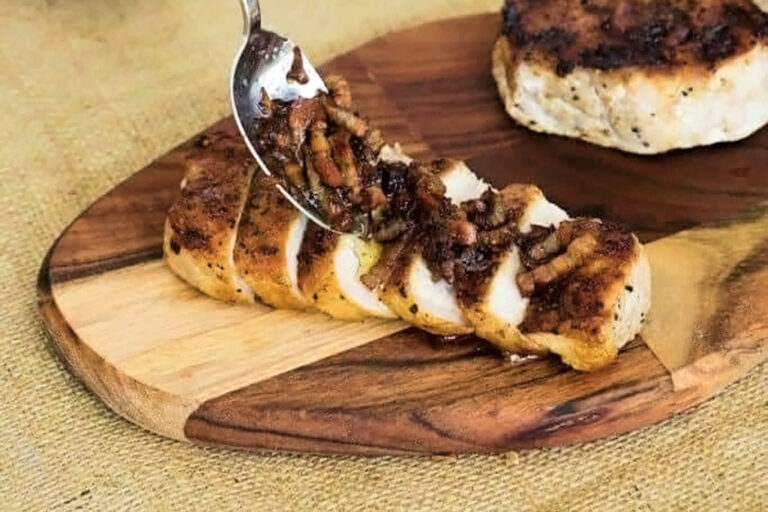 This recipe is from KetoConnect, where you'll find lots of delicious, low-carb recipe ideas. Here is the full Apple Pork Chops recipe with additional notes, ingredient links, and nutritional information.
Servings: 2
Ingredients:
16 oz boneless pork loin chops (two 8oz pork loins)
1/2 cup apple cider vinegar
2 tablespoons butter
1 tablespoon ghee
1 slice bacon, chopped
1/6 medium white onion, minced
1 inch fresh ginger, grated
1/2 teaspoon ground cinnamon
35 drops liquid stevia
1/2 teaspoon pink Himalayan salt
1/4 teaspoon black pepper
Directions:
Preheat oven to 400 degrees.
Season the pork chops with salt and pepper.
Heat a sauté pan to medium-high heat and add ghee. Once the pan is hot and the ghee is glistening, add the pork chops. After three minutes, flip them and allow them to continue to sear for another three minutes. Turn the chops onto their side if there is a strip of fat to crisp it up.
Place the pork chops in a 400 degree oven for 15-20 minutes. Internal temperature should be at least 145 degrees F. Once they are cooked set them aside to rest.
Place the pan that has all the drippings back onto the stovetop on medium-high heat and scrape up the drippings. Add the bacon and allow it to cook almost fully. Once the bacon is cooked, add in the onion and ginger and let it cook down for a couple minutes. Season with salt and pepper.
Add apple cider vinegar to the pan, along with the liquid stevia and cinnamon. Allow it to reduce on high heat until you get a sticky, thick sauce. When the sauce is fully reduced, add the butter and allow the sauce to cook for an additional 2 minutes.
Serve each chop warm with half the sauce on top. Enjoy!