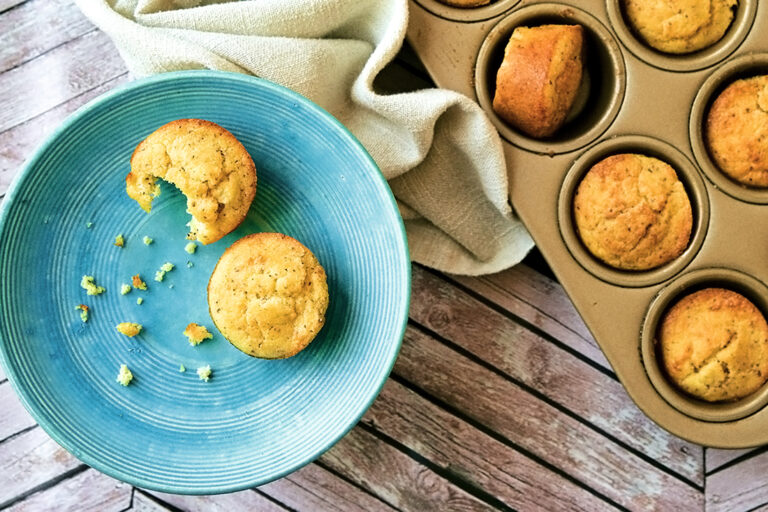 Jennifer Shun is the creator of For Good Measure, a website featuring low-carb, farm-to-table California cuisine with specific ingredient lists and nutritional data geared to people living with diabetes. Click here for the original recipe and notes.
Servings: 8
Ingredients:
¼ cup butter, room temperature
2 eggs
¾ cup almond flour
¼ cup fine grind cornmeal
1 teaspoon baking powder
½ teaspoon salt
¼ cup, unsweetened plain yogurt
Directions:
Before you begin, bring butter to room temperature.
Preheat oven to 350 degrees.
Line a muffin tin with parchment liners.
Separate eggs, reserving egg whites.
Mix almond flour, corn meal, baking powder and salt in a small bowl, set aside.
With an electric mixer, cream egg yolks and butter.
Add yogurt, followed by flour mixture until well combined, set aside. Wash and dry beaters.
Using a separate bowl, whip egg whites on low until frothy, increasing to high until soft peaks form.
Fold egg whites into batter.
Measure 2 tablespoons of batter into prepared muffin tin. Bake for 15 minutes, until golden.
Naturally low-carb & gluten-free
Nutritional Information for 1 Serving (1 muffin):  
Calories: 150, Fat: 12g, Carbs: 6g, Fiber: 1g, Sugars: 0g, Protein: 4g