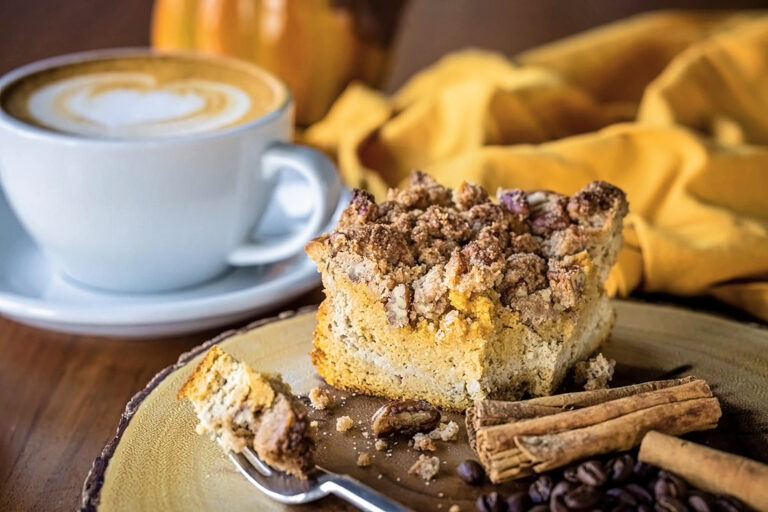 This recipe is shared with permission from Patrick Maese at patrickmaese.com, where you'll find lots of delicious low-carb recipe ideas. Here is the full Keto Pumpkin Spice Coffee Cake recipe with additional notes.
Please Note: This recipe calls for an Aeropress to make the concentrated Pumpkin Spice Coffee. Instructions below.
Servings 16
Ingredients:
Cake Layer
2 cups super fine almond flour
¼ cup coconut flour
2 teaspoons baking powder
1 teaspoon pumpkin pie spice
1 pinch salt
3 whole eggs
¾ cup pumpkin puree
¼ cup heavy cream
⅓ cup erythritol
1 ½ teaspoon vanilla extract
Coffee Cheesecake
12 oz cream cheese, room temperature
⅓ cup confectioners erythritol
1 whole egg
½ tsp vanilla extract
3 ½ oz Sprouts pumpkin spice coffee, concentrated (see note below)
Cinnamon Streusel Topping
1 cup almond flour
½ cup pecans, chopped
⅓ cup brown erythritol
1 teaspoon cinnamon
⅓ cup Unsalted butter, melted
Instructions:
Cake Layer
Preheat oven to 350. Line a 9-inch square cake pan with parchment paper. Set aside.
Add the almond flour, coconut flour, baking powder, pumpkin pie spice, and salt to a bowl and whisk to combine.
In a separate bowl, mix the eggs, pumpkin puree, heavy cream, erythritol, and vanilla extract. Combine with the dry ingredients and mix.
Coffee Cheesecake Layer
In a bowl, add the softened cream cheese and beat with the erythritol.
Add the egg, concentrated coffee & vanilla extract and beat until smooth.
Cinnamon Streusel Topping
Add almond flour, pecans, cinnamon, and brown erythritol into a mixing bowl and mix. Pour the melted butter over the top and mix until well combined.
 Assemble the Cake
Using a spatula, spread half the pumpkin batter into your parchment lined cake pan.
Next, pour the cream cheese mixture over the bottom cake layer and spread evenly.
Add the remaining pumpkin cake batter and gently smooth over.
Sprinkle the streusel crumb topping over the cake and press into the batter gently.
Place the cake pan on the center rack of your oven and bake for 45 minutes. Test for doneness by inserting a toothpick, it should come out mostly clean of batter. Let cool for at least 2 hours before serving. Store in refrigerator.
Notes:
I used an Aeropress to make my concentrated 3.5 oz of pumpkin spice coffee (instructions below). You can certainly brew coffee with your traditional method, though I would suggest using a larger amount of coffee to get the concentration needed for flavor.
Ingredients:
30g Sprouts Pumpkin Spice ground coffee
100ml hot water (200º Fahrenheit)
Instructions:
Place 30 grams of ground coffee into an AeroPress.
Starting your timer, pour 100 grams of hot water over coffee and stir rapidly until the timer reaches 20 seconds.
At 1:00, flip and plunge for 20 seconds into your clean cup. Let cool completely.
Approximate Nutritional Information for 1 Serving:
Calories: 300, Fat: 27g, Carbs: 16.5g, Fiber: 4g, Sugar: 3g, Protein: 8.5g