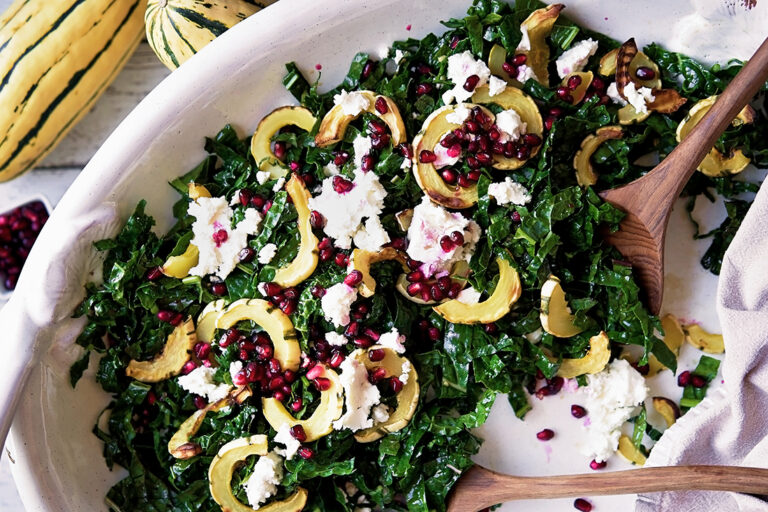 This recipe is shared with permission from For Good Measure. Jennifer Shun is a writer, skilled home cook, and mother of a daughter living with type 1 diabetes. She shares her recipe development, food styling, and photography passions on her diabetic lifestyle blog forgoodmeasure.com.
Servings: 8
Ingredients:
4 cups delicata squash, sliced
5 tablespoons olive oil, divided
8 cups lacinato kale, chopped
¼ cup red wine vinegar
1 tablespoon balsamic vinegar
2 teaspoons garlic, minced
1 teaspoon paprika
1 teaspoon salt
½ teaspoon oregano
¼ teaspoon pepper
1 cup feta, crumbled
½ cup pepitas, roasted
¼ cup pomegranate seeds
Directions:
Preheat oven to 400 degrees.
Line a rimmed baking sheet with parchment.
Toss squash in one tablespoon olive oil and arrange on prepared baking sheet.
Roast for 30 minutes.
Rinse and drain kale, placing in a shallow bowl.
Whisk vinegars, garlic, paprika, salt, oregano & pepper in small bowl, until well combined. Slowly whisk in remaining olive oil until emulsified.
Drizzle dressing over salad mixture. *
Top with roasted squash, feta, pepitas, and pomegranate seeds.
* Dress to desired taste — leftover dressing will keep for one week refrigerated. Bring to room temperature & whisk before re-serving.
Naturally low-carb & gluten-free
Nutritional Information for 1 Serving (approximately 1.5 cups):
Calories: 187, Fat: 15g, Carbs: 10g, Fiber: 1g, Sugars: 3g, Protein: 6g