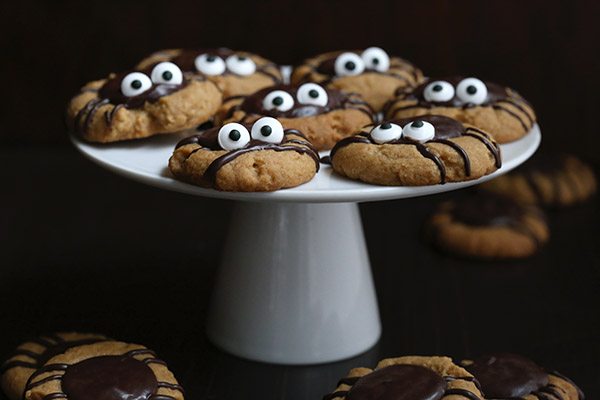 Halloween often feels like the start of the holiday season in our office – decorations  go up and candy comes in.  This is the time of year when will power is put to the test, and sometimes we just want to indulge without a lot of  aftermath. These cookies from alldayidreamaboutfood.com do the trick – they are chocolate and peanut butter perfection with less than 3g of carb each!
Yield: 30 cookies
Ingredients:
Peanut Butter Thumbprints:
3/4 cups defatted peanut flour
1/2 tsp baking soda
1/4 tsp salt
1/2 cup butter softened
1/2 cup peanut butter
1/3 cup Swerve Sweetener
1 large egg
1/2 tsp vanilla extract
1/8 tsp stevia extract or an additional 3 tbsp Swerve
Chocolate Drizzle for legs:
1 1/2 ounces Lily's Dark Chocolate or other good quality dark chocolate such as Green & Blacks 85%, chopped
Chocolate Ganache Filling:
Instructions:
Cookies:
Preheat oven to 325F and line a large baking sheet with parchment or a silicone liner.
In a medium bowl, whisk together the peanut flour, baking soda and salt. In a large bowl, beat butter and peanut butter until smooth. Beat in sweetener until well combined, then beat in egg, vanilla extract, and stevia extract.
Roll dough into 1 inch balls and place 2 inches apart on baking sheet (you should get about 30 balls). Flatten slightly with the palm of your hand and then create a well in the center of each with your thumb (you may need to wet your hands a few times).
Bake 12 to 16 minutes, until puffed and just golden brown and barely set. They will still be very soft. Remove from oven. Use the end of a wooden spoon or other blunt, round kitchen implement to gently re-do the wells in the center of each cookie. Let cool completely.
Chocolate Drizzle:
Place chopped chocolate in a microwave-safe bowl. Heat on high for 30 second increments, stirring in between, until melted and smooth.
Cut the very tip of the corner of a Ziploc bag. Place chocolate in bag and drizzle four lines across each cookie.
Chocolate Ganache Filling:
In a small saucepan over medium heat, bring cream and sweetener to just a simmer, stirring to combine.
Remove from heat and add chopped chocolate. Let sit 5 minutes until chocolate is melted, then whisk to combine. Add vanilla and whisk until smooth.
Dollop about 1 to 2 tsp ganache into the well of each cookie, taking care not to overflow the well. Let cool 20 minutes before adding candy monster eyes, if using.
Recipe Notes:
Makes 30 cookies. Each cookie has 2.88 g of carbs and 1 g of fiber. Total NET CARBS = 1.88 g. (Go ahead, have two. You deserve it!). Carb count does not include candy eyes. I would imagine this adds about 1 or 2 more grams of carbs per cookie.
Nutrition Facts (1 cookie):
Calories 98, Total Fat 8.34g, Cholesterol 13mg, Total Carbohydrates 2.88g, Dietary Fiber 1g, Protein 2.14g
Recipe shared with permission from alldayidreamaboutfood.com. Click here to see the original recipe and notes.