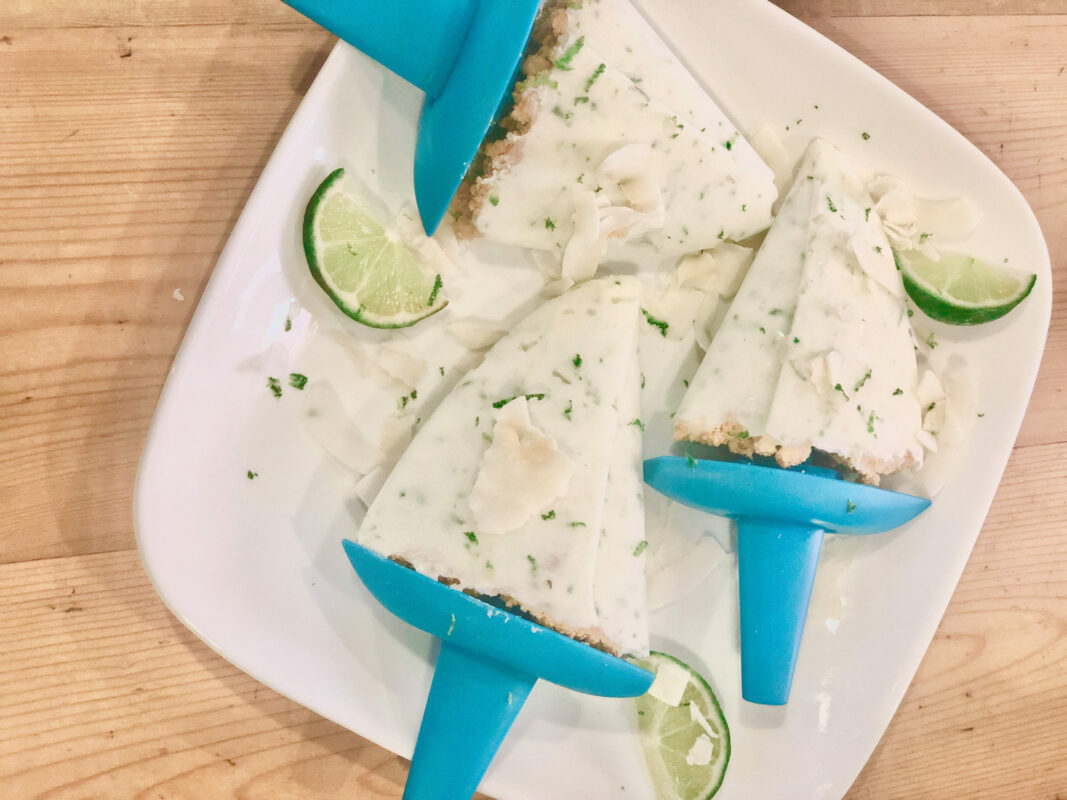 Made with Greek yogurt and sweetened naturally with honey, these popsicles are a creative way to enjoy the flavors of key lime pie in a lip-smacking lightened up version.
Ingredients:
2 cups Greek yogurt
2 cups coconut chunks (unsweetened, I used Trader Joe's brand frozen "Just Coconut Chunks", thawed)
2 tablespoons honey (you can choose to omit, or use a sugar-free sweetener)
4 limes, zested and juiced
1 Thinster brand coconut cookie per popsicle (you can omit them, or use any graham cracker/vanilla wafer type small cookie)
Directions:
Blend thawed coconut chunks for a few minutes in a food processor until they are at a fine crumbly state.
Add lime juice, zest, and honey, and pulse blend for a few seconds at a time, scraping down the sides of the food processor if necessary.
Transfer the mixture into a bowl and add yogurt. Fold mixture until well combined.
Fill popsicle molds.
Crumble 1 cookie per mold. Insert popsicle base/handle (if included, or insert popsicle sticks. The mixture is thick enough so they should stay placed without partially freezing first).
Freeze at least 4 hours or overnight
Note: When releasing the popsicles from mold, you may have to run them under warm water for a few seconds on each side to loosen them from the mold.
Approximate Nutritional Information Per Popsicle:
Calories 192, Fat 12.1 g, Carbs 16.5 g, Protein 3.5 g