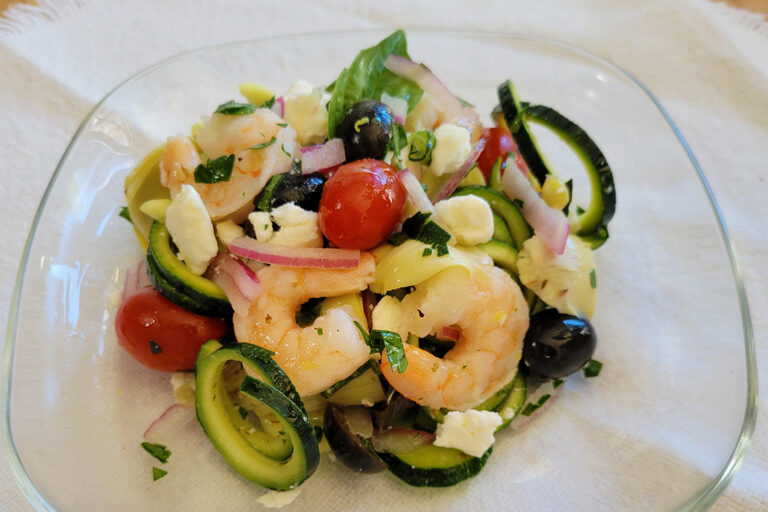 I have to admit, I was skeptical about zucchini noodles (zoodles) as a pasta replacement…but I am now a fan! This recipe is very versatile. Use whatever olives you like…green, Kalamata, etc. If you are not a tomato fan, you can use colorful bell peppers. You can get raw shrimp and grill them instead of getting pre-cooked if you have the time. You can use a different size too: 51-60 means there are about 51-60 shrimp per pound. They also come in 41-50, 31-40, etc. Have fun! Be creative!  🙂
Servings: 8-10
Ingredients
For the pasta:
4 medium green zucchinis, or 1 package of zoodles
2 pounds peeled and deveined cooked shrimp (51-60 per pound)
2 jars (7-1/2 ounces each) marinated quartered artichoke hearts, drained
1 can small black olives, drained and halved, or 2 cans (2-1/4 ounces each) sliced olives, drained
2 cups crumbled feta cheese
1 medium red onion (about a cup) thinly sliced
1 pint of cherry or grape tomatoes
1/2 cup chopped fresh parsley
1/4 cup chopped fresh basil
For the dressing:
1/2 cup white wine vinegar
1/2 cup olive oil
1/4 cup lemon juice, usually from 1 large lemon (zest from that lemon optional)
1 large garlic clove fine grated or minced, about 1/2 teaspoon
2 tablespoons chopped fresh basil
1/2 teaspoon dried oregano
Fresh ground pepper
2 packets of zero sugar sweetener, like stevia (optional)
Directions
Cut the zucchini on a spiralizer to make zoodles. If you don't have a spiralizer, a lot of grocery stores are now stocking pre-made zoodles (sometimes in the frozen section).
In a large bowl, combine zoodles, shrimp, artichokes, olives, red onions, tomatoes, parsley and basil.
In a small bowl, whisk vinegar, oil, lemon juice, lemon zest (if using), garlic, basil, oregano, sweetener and pepper. Pour dressing over pasta mixture; toss to coat. Refrigerate, covered, at least 30 minutes before serving to allow flavors to meld.
Right before serving add the feta cheese. I feel like if you add it sooner it gets mushy and melts into the salad.
Approximate Nutritional Info Per Serving:
Calories: 314, Fat: 22g, Carbs: 10g, Fiber: 2.5g, Sugar: 5g, Protein: 18g