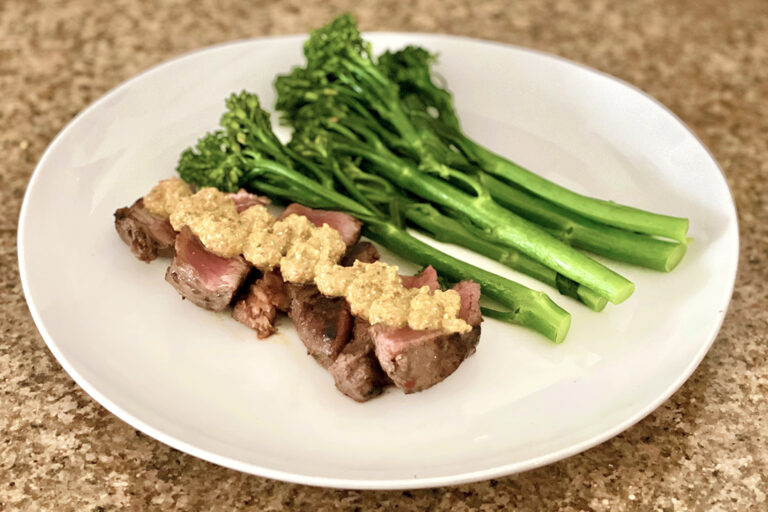 Inspired by my Roasted Red Pepper Feta Dip, the unique steak "sauce" in this recipe adds a fun and creative topper to almost any type of steak. This meal looks fancy, but is really quite simple to prepare.
Serves: 2
Ingredients:
1 bunch broccolini
1 10 oz. top sirloin steak (or two 5 oz. steaks) approximately 1-inch thick (or your favorite cut in similar portion size and thickness)
1 teaspoon olive oil, + 1 tablespoon
Directions:
Preheat oven to 400 degrees.
Spread 1/2 teaspoon of olive oil on each side of the steak and season with salt and pepper to taste.
Heat a cast iron skillet (or oven-proof medium-sized sauté pan) on medium-high heat, and add 1 tablespoon olive oil. When the oil starts to shimmer, carefully place the steak in the pan and sear for 2-3 minutes on each side.
Put the steak in the oven for two minutes for medium-rare or four minutes for medium (and we can't be your friend if you want it more done than that!)
If you have a meat thermometer, based on a steak that's about 1 inch thick, the thermometer should read 135 for medium-rare and 145 for medium. Keep in mind all ovens (and steak cuts) are a little different, so you may need to adjust the cooking time based on your own oven.
While the steak is resting, steam broccolini for about 5 minutes, until bright green and tender.
Top steak with roasted red pepper dip and enjoy!