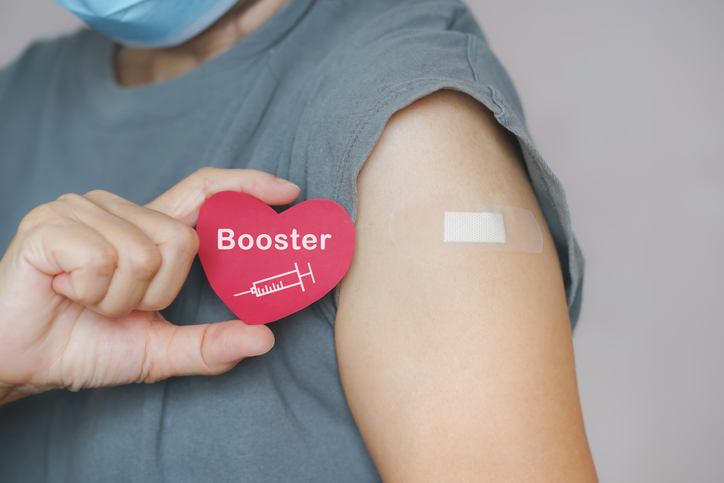 COVID-19 Booster: General Info & Guidelines
The COVID-19 booster shot is recommended for certain conditions (described below) eight months after the second Moderna or Pfizer injection. It is the same dose as the first two injections, and you cannot switch from Moderna to Pfizer or vice versa. The CDC says that breakthrough COVID-19 cases in fully vaccinated individuals start to rise after eight months, hence the recommended timetable. There are no guidelines yet for the Johnson and Johnson COVID-19 booster dose.
The general guidelines on who should receive the COVID-19 booster vaccination are individuals who are immunocompromised (e.g. anyone taking immunosuppressants for a kidney transplant or anyone receiving chemotherapy). There's a long list of medical conditions that lead to a compromised immune system. Anyone over 70 years old is also considered high risk for a poor outcome from COVID-19, with or without comorbid conditions such as heart and kidney disease.
Type 1 Diabetes
Type 1 diabetes is an autoimmune disease, and it's high on the list of conditions that cause someone to be immunocompromised. Susceptibility is even worse for people with poor glucose control. Although the exact level of poor control (indicated by an elevated A1c) is not known, above 8% is generally considered poor glucose control.
Type 2 Diabetes
Type 2 diabetes is not an autoimmune condition, but the literature is very clear that poor glucose control in people with type 2 is associated with an immunocompromised state. Both type 1 and type 2 diabetes are associated with a higher rate of COVID infections and poorer outcomes.
Taking all these facts into consideration, we believe anyone with any type of diabetes should be eligible for the COVID-19 booster vaccination. Jeremy and I are both type 1s and recommend the booster to our brethren.
Potential Side Effects
Potential side effects of the booster shots are similar to the first two injections of either the Moderna or Pfizer vaccines. Common sides effects include injection site pain and swelling, fatigue, headache, and chills that may last up to a few days. It is impossible to predict if you will experience any side effects, or how hard they will hit if you do have them. Be prepared with Tylenol and flexible work hours if possible. Rest and drink plenty of low caloric fluids.
The Seasonal Flu Shot
The viruses targeted by the flu vaccine are very different from COVID-19, and the flu vaccine can be taken within a short period of time before or after the COVID-19 booster injection. Whichever vaccine you receive first, it is probably a good idea to wait a few days until any symptoms (symptoms are the same for both vaccines) have dissipated. The CDC recommends getting the seasonal flu shot before the end of October, but anyone will still benefit until the end of January 2022.
Recap
Anyone with type 1 or type 2 diabetes is eligible for the Pfizer and Moderna booster shot eight months after your second injection. If your glucose control is poor, you should have a greater sense of urgency to get the booster. You can expect side effects to be similar to the initial doses. You should also get your flu shot as early as possible, but wait several days between your booster shot and the flu injection.
How and Where to Get the COVID-19 Booster
You can speak to your healthcare provider about getting a booster injection, but you can also call your local pharmacy or any healthcare institution administering COVID-19 vaccinations and make an appointment.  If asked why you are requesting a booster shot, the answer is simply, "I am immunocompromised." If you get any pushback, be insistent, and let us know so we can call and straighten them out!
-Steve and Jeremy
Additional Resources:
Diabetes & the COVID-19 Vaccine: We Got Ours and Our Bromance is BACK!
Dr. P Got Covid…His Most Surprising Symptom and Advice If You Get Sick
A Dose of Dr. E: Diabetes & COVID: 4 Easy Ways to Boost Your Immune System
Sick Day Rules and What to Do If You Test Positive for COVID-19
A Dose of Dr. E: Sick Day Rules