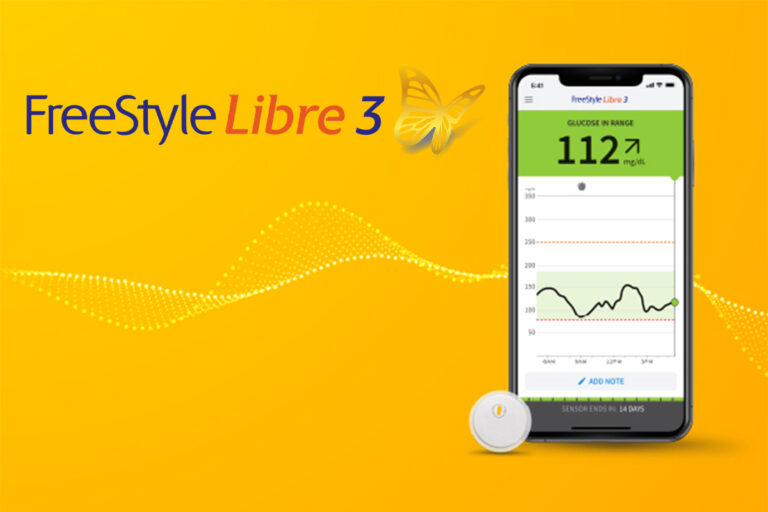 Touted as the world's smallest and thinnest 14-day glucose sensor, the FreeStyle Libre 3 was just approved by the FDA, and is cleared for use in kids as young as four years old. It offers important new features while retaining many key attributes of the FreeStyle Libre 2.
Here's What's New:
Smaller Size
The FreeStyle Libre 3 is smaller and more environmentally friendly than previous versions. It's about the size of two stacked pennies and is more than 70% smaller than the FreeStyle Libre 2 (which is about the size of two stacked quarters). The FreeStyle Libre 3 uses 41% less plastic and 43% less carton paper, so it's more sustainable and better for the environment.
Continuous Blood Sugar Readings
The FreeStyle Libre 3 offers continuous, real-time glucose readings that are automatically delivered to compatible smartphones (iOS and Android) every minute. There's a single "scan" to start the sensor (no calibration or code is required) and then glucose data flows straight to the app.
One-Piece Applicator
A new, single-piece applicator makes the FreeStyle Libre 3 sensor easy to apply.
Better Bluetooth
An increased Bluetooth range now reaches up to 33 feet, the longest range for any CGM on the market.
Improved Accuracy
For anyone who likes acronyms, the FreeStyle Libre 3 has a 7.9% overall MARD (Mean Absolute Relative Difference) score, which is the standard way to measure continuous glucose accuracy. The lower percentage, the better, and it's the first CGM to have a MARD lower than 8%.
FreeStyle Libre 3 App
The FreeStyle Libre 3 can only be used with the FreeStyle Libre 3 mobile app, which you can download for iOS or Android. Additionally, you can use the LibreLinkUp app to allow family, friends, or healthcare professionals to remotely monitor your CGM info, and you can utilize the LibreView app to enable your healthcare provider to see your data, trends, and patterns.
Here's What's Staying the Same:
Alerts and Alarms
You still have the option to set high, low, and signal loss alarms with the FreeStyle Libre 3 system. You have to turn the alerts on manually, and you need to be within 33 feet of your phone in order to receive notifications. We suggest most people set their low alert at 80mg/dL because there may be a lag period in dropping blood sugars, meaning when you hit your low alert you may actually be lower depending on how fast you're falling. The FreeStyle Libre 3 does have a mandatory "urgent low glucose" alarm that lets you know when your blood sugar is below 55mg/dL. As a general rule, high alerts for most people should be set between 180-200mg/dL.
Keep in mind, if your blood sugar reading isn't matching your symptoms (i.e. if you feel sweaty, shaky, or disoriented like you're having a low but your glucose value is in range) double-check your numbers with a blood glucose meter.
Price
The FreeStyle Libre 3 will be the same price as other FreeStyle Libre systems.
Sensor Placement
The FreeStyle Libre 3 has been FDA approved for wear on the back of the upper arm.
Access and Availability
The FreeStyle Libre 3 will be available in the U.S. in the coming months, and will be available with a prescription at participating pharmacies later this year. It's not currently eligible for Medicare reimbursement, and Medicaid eligibility may vary by state. You can sign up on the FreeStyle Libre 3 website to receive more information as it becomes available.
The FreeStyle Libre 3 is not yet approved to integrate with pumps, but we're keeping our fingers crossed it will happen soon. In the meantime, now that it's summertime and the sun's out, get your guns out in confidence with the slimmer profile of the FreeStyle Libre 3, and enjoy all that this upgraded system has to offer.
Related Articles:
Does It Make a Difference Where You Put Your FreeStyle Libre Sensor?
Tips for Eating Out with Type 2 Diabetes
It's Love at First Swipe for Chef Robert Lewis and His FreeStyle Libre 2