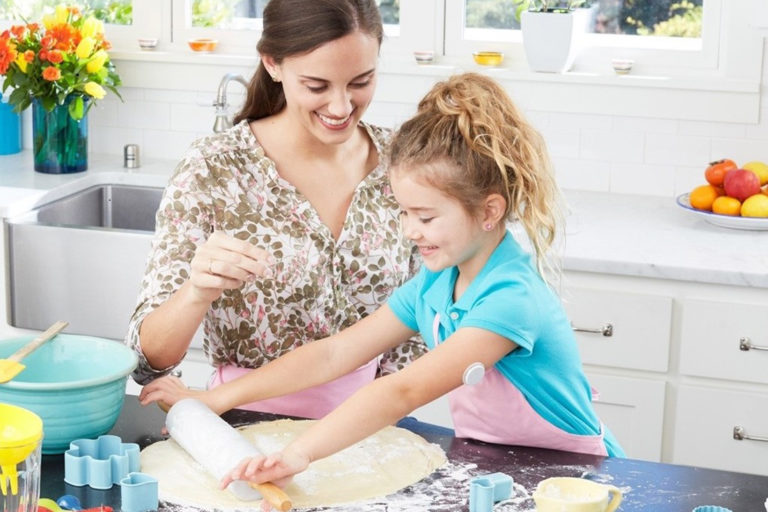 Abbott's FreeStyle Libre Systems
The FreeStyle Libre has been on the market for several years now, and used by a ton of folks living with diabetes worldwide. The sensor lasts two weeks, and the user can get a glucose value by scanning the sensor (typically worn on the back of the upper arm) with a reader or a smart phone. The current glucose value (which is measured every minute) is displayed upon scanning, along with a trend arrow indicating the direction of glucose change and a tracing of the glucose numbers over the last eight hours. The data can also be downloaded for more extensive analysis such as mean glucose, glucose management indicator (GMI), time in range (TIR), etc. for the person living with diabetes primarily and his or her health care provider secondarily.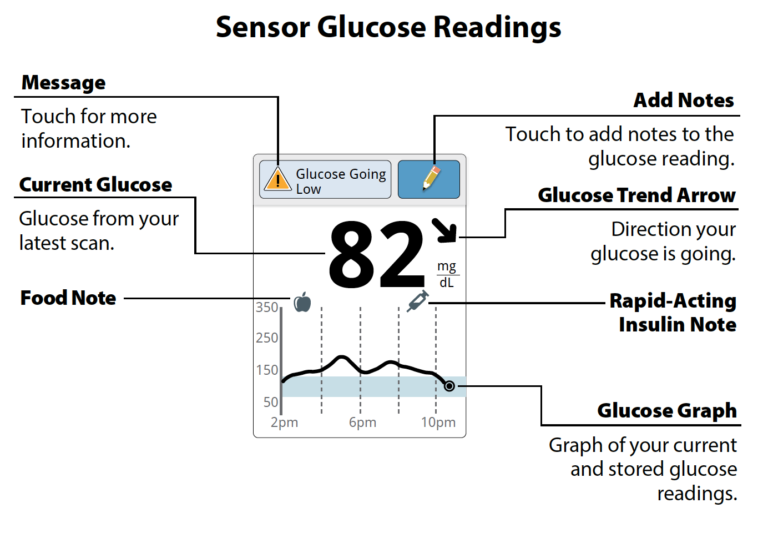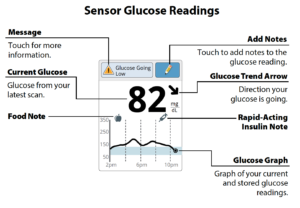 The FreeStyle Libre 2 Has Several Advancements:
1. Customizable, Optional Real-Time Alarms
This in my opinion is the biggest advancement of the FreeStyle Libre 2. Your low alarm can be set between 60-100 mg/dl and your high alert between 120 and 400mg/dl. The user will get an auditory alert (or a vibration) which will prompt him or her to scan their sensor with the reader to get the glucose value. These alerts are optional and all of them can be turned off. For folks with T1D, these alerts are essential to improve your TIR and importantly time below range (TBR). I suggest the low alert for most people to be 80mg/dl as there may be a lag period on the way down, meaning that when you hit your low alert level you may be in reality significantly lower depending on how fast you are dropping. The high alert for most folks should be 180 to 200mg/dl. There are circumstances when you may want to alter these alerts depending on individual circumstances.
2. iCGM Designation
The FreeStyle Libre 2 received the iCGM designation from the FDA, which means there can be digital communication between the FreeStyle Libre 2 and other devices such as smart phones, insulin pumps, smart pens, etc. At the current time, the FreeStyle Libre 2 is not indicated to be used in automated insulin delivery systems (e.g. hybrid closed loop) because of vitamin C supplement effects on glucose readings (it can give an artificially high value with large doses of vitamin C). Once that issue is addressed, it will likely be able to be used with hybrid closed loop systems. Collaborations with Tandem, Insulet and Bigfoot have been announced already.
3. Approved for Kids as Young as 4 Years Old
In reality, parents of very young kids have been using these CGM devices as young as 4 months old and it has been nothing short of a godsend!
The FreeStyle Libre 2 has the same lower price point as the first FreeStyle Libre system, and can be acquired from pharmacies with a prescription. You will need a new FreeStyle Libre 2 reader and sensors, and the smart phone app (to replace the need for the reader) will be coming soon. Please visit the FreeStyle Libre 2 website for more detailed and important information about the functionality, accuracy, warnings, precautions, etc.
The optional and customizable high and low alerts are a huge advancement over the Libre 1, and will help people living with diabetes avoid the unpredictable highs and lows of living with this condition.
When Can You Get It?
No release date has been announced, but you can sign up here to be notified when it will be available in the U.S.
Additional Resources
The World's Smallest CGM Gets FDA Approval, and Bigger Isn't Always Better!
It's Love at First Swipe for Chef Robert Lewis and His FreeStyle Libre 2
Does It Make a Difference Where You Put Your FreeStyle Libre Sensor?
What's Trending in Diabetes? Trend Arrows and How to React to Them!