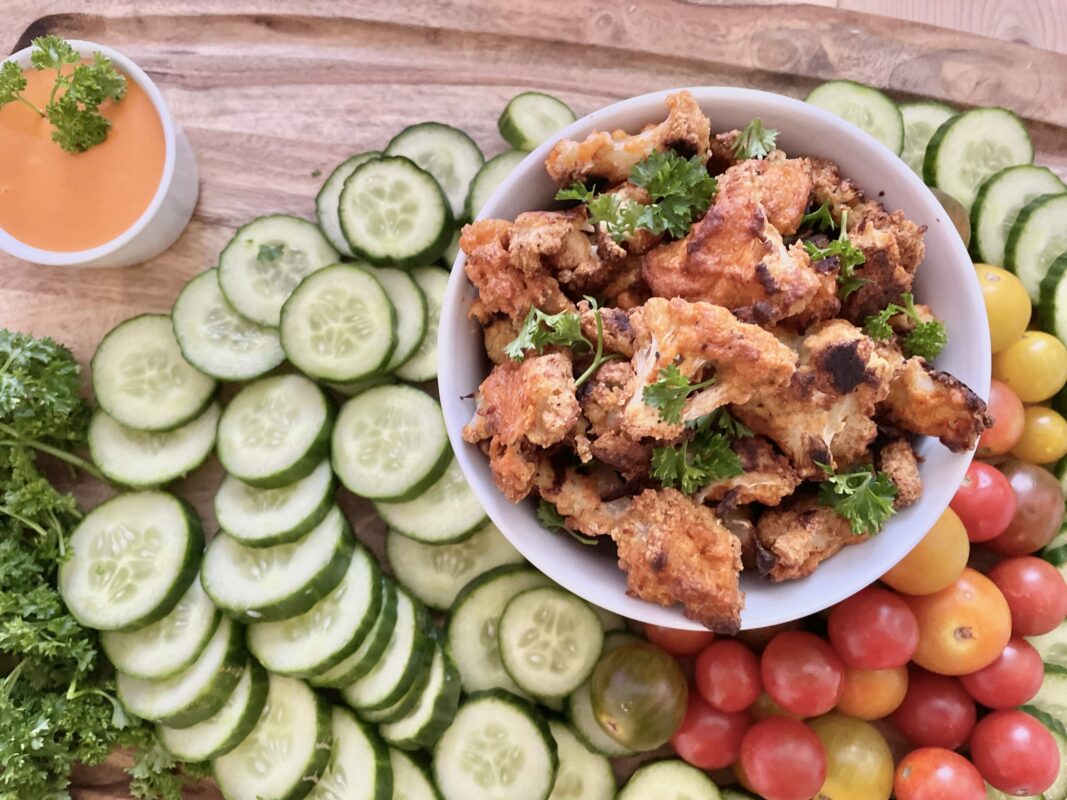 Pull a cauliflower audible in this game-changing veggie swap created by our Continuing Medical Education Manager Sarah. The tangy buffalo sauce livens up the cauliflower, making this a perfect party app or fun side dish (if you don't eat it all straight from the sheet pan).
Servings: 2
Ingredients:
1 head of cauliflower, cut into florets (or you can buy a bag of pre-cut florets)
¾ cup almond flour
2 teaspoons garlic powder
1 teaspoon paprika
1 teaspoon salt
½ teaspoon ground black pepper
¾ cup unsweetened, unflavored almond milk (or milk of choice)
¼ cup buffalo sauce, plus more for dipping (we used Primal Kitchen, which is low carb)
Veggies and parsley for garnish, if desired
Directions:
Preheat oven to 450 degrees.
Mix together flour and spices, add milk and stir until batter is even and smooth.
Add cauliflower florets to the batter and mix until coated. You want just a light coating on all pieces, otherwise they will be soggy!
Line a baking sheet with parchment paper and distribute the florets evenly in a single layer.
Bake for 20 minutes.
Pull them out of the oven, brush them with buffalo sauce, and bake for another 20 minutes.
Garnish with fresh parsley, and serve with veggies and extra sauce for dipping.
Nutritional Information for 1 serving (half the recipe):
Calories: 412, Fat: 30g, Carbs: 23.5g, Fiber: 11g, Sugar: 7.5g, Protein: 16.5g
Note: The cauliflower does shrink down a bit after baking.