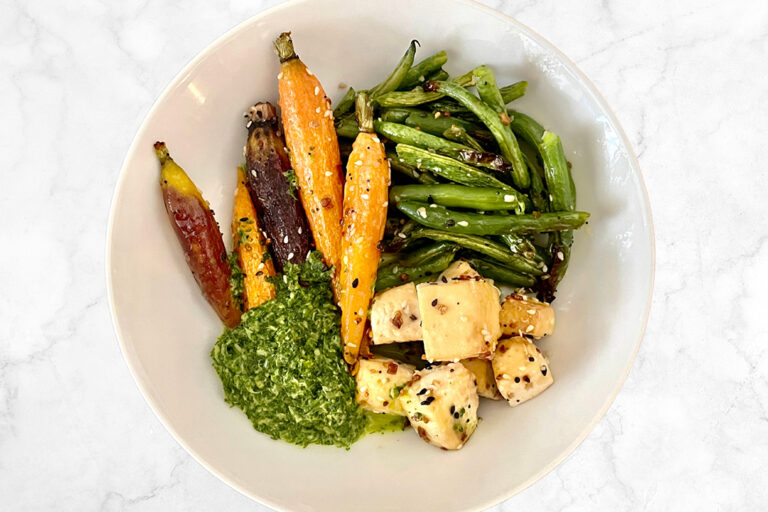 In honor of Earth Day, our Continuing Medical Education Manager wanted to create a simple, veggie-focused meal that can be assembled and roasted all together. It's perfect as a light and healthy main course, and can also work as a hearty side dish.
Ingredients:
16 oz. extra firm tofu
16 oz. trimmed and cleaned green beans
16 oz. rainbow carrots
Olive oil
Everything But the Bagel seasoning blend, to taste (garlic, onion, sesame seeds, salt)
For the Herbed Dressing:
2 large bunches fresh parsley
1 bunch fresh dill
3 cloves garlic
½ cup olive oil
Juice and zest of 4 lemons
1 teaspoon sea salt
~¼ cup water
Directions:
Preheat the oven to 400 degrees Fahrenheit.
Line a large baking sheet with parchment paper.
Toss the tofu, green beans, and carrots in a few tablespoons of olive oil. Sprinkle with seasoning to taste and arrange on the baking sheet.
Bake for 40-45 minutes or until the carrots are tender and the green beans show some char.
While the veggies and tofu are baking, mix all of the herbed dressing ingredients in a food processor or blender until smooth. You can either drizzle this over the entire sheet pan fresh out of the oven, or use it as a dipping sauce on your plate.