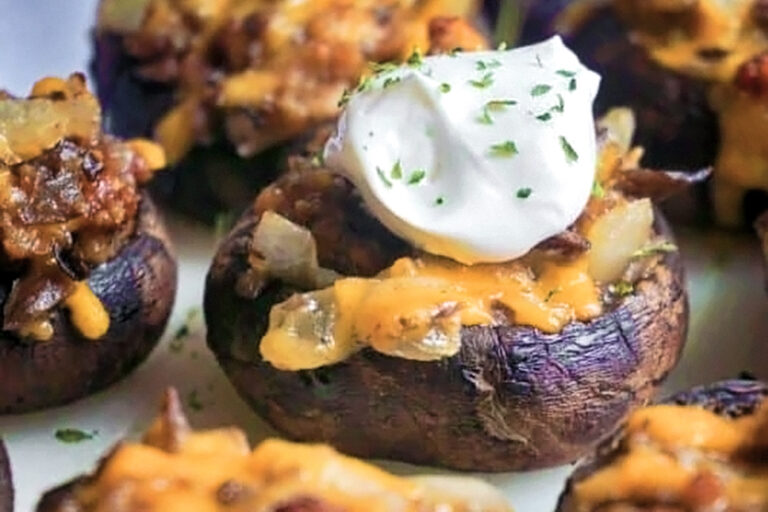 This recipe is from KetoConnect, where you'll find lots of delicious, low-carb recipe ideas. Here is the full Sausage Stuffed Mushroom recipe with additional notes and ingredient links.
Yield: 20 mushrooms
Ingredients:
2 sausage links (we use Bottos)
20 baby bella mushrooms (aka cremini)
1 cup cheddar cheese
1/4 medium onion
1.5 teaspoons minced garlic
1/4 teaspoon pepper
1/4 teaspoon pink Himalayan salt
Instructions:
Preheat oven to 350 degrees F.
Remove stalks from all of the mushrooms and dice the stalks.
Dice the onion and combine with the diced stalks. Set aside.
Remove sausage links from their casing and cook in a sauté pan, breaking them into small pieces so almost ground. Once fully cooked, transfer them to a plate to cool.
Add onion, mushroom stalks, and garlic to the pan and cook down until onions are translucent. Transfer to a bowl and combine with sausage and cheddar cheese. Add the salt and pepper.
Scoop the sausage mixture into mushroom caps until you've filled all the mushrooms.
Place mushrooms on a baking sheet and bake at 350 degrees for 20 minutes. Serve warm.
Nutritional Information for 1 Serving (1 mushroom):
Calories: 56, Fat 3.7g, Carbs 1.3g, Fiber 0.6g, Protein 3.3g