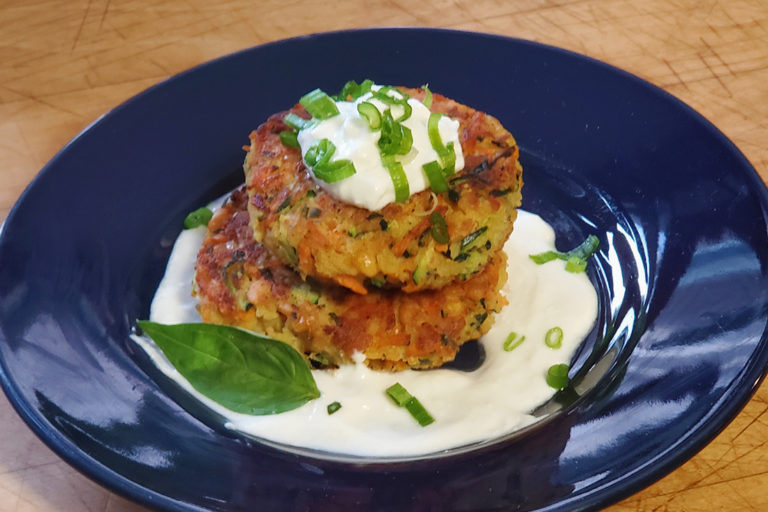 These fritters are a delicious side dish on their own, but they can easily star as a main course. Top them with ham, cheese and a fried egg for breakfast (or breakfast for dinner) or dress 'em up with marinara and melted provolone…you may have to hide leftovers in the back of the fridge to save a few extras for yourself.
This recipe is from Jill Yapo, our Director of Operations, and frequent Yapo's Home Catering Iron Chef Night Champion.
Yield: 8-10 fritters (depending on how big/thick you make them)
Ingredients:
1 15oz can chickpeas (garbanzo beans)
2 medium zucchinis, grated (approximately 2 cups)
1 large carrot, peeled and grated (approximately 1 cup)
2 tablespoons grated onion (yellow, white or red – your preference) – approximately ¼ of a medium onion
2 large eggs, lightly beaten
¾ cup panko or plain bread crumbs
2 tablespoons fresh basil, chopped (or 2 teaspoons dried – I think fresh has more flavor though)
2 teaspoons garlic powder
1 teaspoon salt
1 teaspoon pepper
olive oil
Ingredients for Garnish Option # 1:
plain Greek yogurt
green onion, diced
Ingredients for Garnish Option # 2*:
1/3 cup plain Greek yogurt
¼ tsp salt
2 small or 1 medium garlic clove, minced or grated
green onion, chives, basil or dill, diced
Directions:
Drain chickpeas. Rough mash them with a fork or potato masher in a large bowl (it does not need to be smooth). Set aside.
Grate zucchini with the large part of your grater. Place in the center of a clean dishtowel or cloth.
Peel and large grate carrot. Place in the dish towel or cloth with zucchini.
Grate onion and add to zucchini and carrots in the dishtowel.
Bring the four corners of the dishtowel together and twist around the veggies squeezing out as much moisture as possible. (I think this step counts towards your exercise for the day).
Add veggies, panko, egg, basil, garlic powder, salt, and pepper to the bowl with the mashed chickpeas.
Stir until completely combined.
Heat olive oil in a large skillet on medium heat. Add about 1 tablespoon of oil per fritter.
Scoop about ¼ cup of mixture into your hand press to compress it into a patty. You can make them smaller if you want more of an appetizer size.
Cook for about 2-3 minutes, until the underside is golden brown, then flip and repeat.
Serve with a dollop of plain Greek yogurt and diced green onion. Enjoy!
*Note for garnish option # 2:
Put Greek yogurt in a microwave-safe bowl, add salt and garlic (I used a microplane to grate it but you can finely mince or use the smallest grate on your regular grater) and stir to combine.  Microwave for 20-30 seconds and stir. You will have more of a garlic cream sauce for your fritters. Sprinkle your preferred green herb on top. Warning, it has a pretty strong garlic flavor, so make sure you aren't doing any public speaking or going on a first date after eating!
Nutritional Info for 1 Fritter (no garnish), based on a batch of 10:
Calories: 84, Fat: 2g, Carbs: 13g, Fiber: 2g, Sugars: 1.5g, Protein: 5g