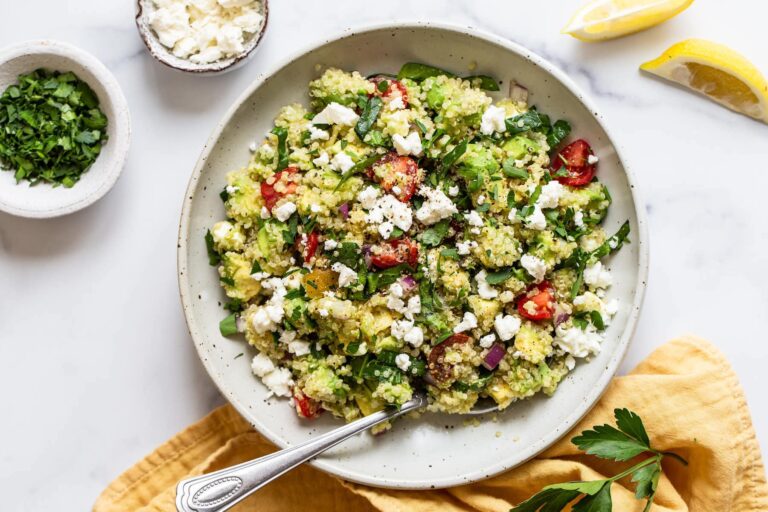 This recipe comes from Brittany at eatingbirdfood.com. Brittany is a holistic nutritionist and has a ton of other healthy and delicious recipes on her website. Click here for the full quinoa recipe, video and notes.
Servings: 4
Ingredients:
½ cup uncooked quinoa
1 cup water
1/2 cup chopped baby spinach
1/2 cup chopped cherry tomatoes
1/3 cup diced red onion
2 tablespoons lemon juice
2 tablespoons olive oil
1/2 teaspoon sea salt
1/4 teaspoon ground pepper
2 ripe avocados, chopped or sliced
1/3 cup crumbled feta cheese
Directions:
Rinse and drain quinoa. Add quinoa and water to a saucepan and bring the water to a boil. Reduce to a simmer, cover and cook for 15 minutes. Fluff with a fork and let cool for 5-10 minutes.
In a medium bowl, stir together cooked quinoa, chopped spinach, tomatoes, red onion and feta.
In a small bowl whisk together lemon juice, olive oil, salt and pepper.
Gently stir in dressing and avocado chunks.
Serve immediately or let the salad chill in the fridge a couple hours before serving. If chilling, you can add the avocado right before serving to prevent browning.
Store salad in an airtight container for 3-4 days in the fridge.
Nutritional Information for 1 serving (1/4 of recipe):
Calories: 316 kcal, Fat: 23g, Carbs: 23g, Fiber: 7g, Sugar: 2g, Protein: 8g