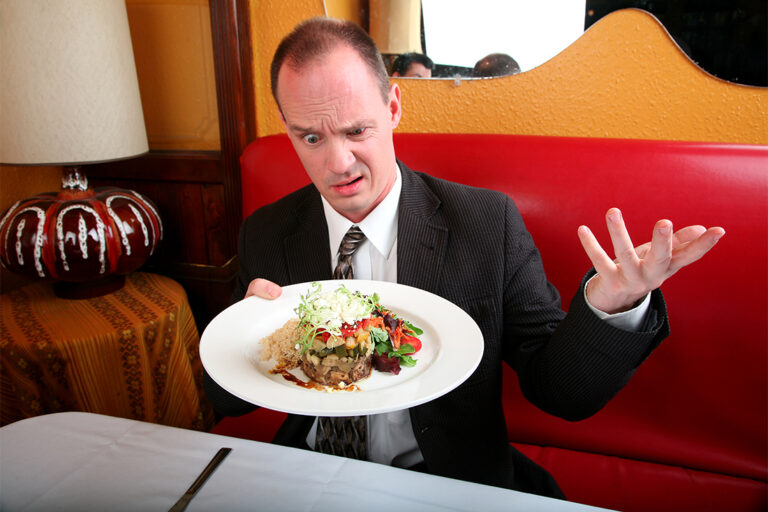 If you take mealtime insulin, you need to know how much to give with each meal. How do you determine your dose? The latest diabetes eating fashion is to count the carbohydrates, and use an insulin-to-carb ratio to figure out how much rapid-acting insulin to take for the meal you are about to consume (or inhale, if you are a rapid eater!)
The Insulin-to-Carb Ratio
In order to figure out your approximate insulin-to-carb ratio, take your total daily dose of fast-acting and basal insulin and divide it into 400. For example, 40 units of a total daily dose into 400 would be an insulin to carb ratio of 1:10.
A typical insulin-to-carb ratio for someone with type 1 may be 1:15 (for every 15 grams of carbohydrate consumed, 1 unit of rapid-acting insulin should be given). If someone with a ratio of 1:15 is about to eat 90 grams of carbohydrate, the dose of rapid-acting insulin for that meal would be 90/15 or 6 units. This amount would be in addition to a correction dose if the pre-meal glucose level was high or above your goal range.
The Correction Factor
To figure out your correction factor, take your total daily dose and divide it into 1800. Using a total daily dose of 40, 40 into 1800 is 45. That means one unit will drop your blood sugar 45 points. This is also called the sensitivity factor.
Someone with type 2 diabetes may have an insulin-to-carb ratio of 1:10 or even 1:5, and would take 9 or 18 units for a meal with 90g of carb.
Keep in mind, this is the typical way we calculate people's initial doses, and it's rare that it would be perfect for everyone, so you have to adjust by testing. By pre-meal and post-meal testing, or looking at your CGM over time after eating, you can determine your appropriate ratio. And, of course, your ratio will not work perfectly all the time, so don't expect it to do so.
The W.A.G Approach
It's important to note that many people with type 1, and especially type 2 diabetes, do pretty well guesstimating their dose based on past experience and trial and error. Some of us call it the W.A.G. (wild ass guess!) approach. For many of us, we are creatures of habit and eat the same amounts and types of food most of the time. I suggest using an insulin algorithm based on personal experience, trying different doses with certain types and amounts of food. In a short time, with the help of pre-meal and post-meal home glucose monitoring or CGM, most of us will have a fairly well-defined mental "insulin menu." An insulin menu is basically how much insulin you need for a certain type of food. For example, when I eat my usual three slices of pizza, I always add an extra 8 to 10 units of my rapid-acting insulin to my usual dose to avoid excessively high post-meal glucose values (see table below).
In summary, it is important to figure out your dose of insulin at mealtime for the amount of food you are going to eat, and correct for a high blood glucose level if you have one.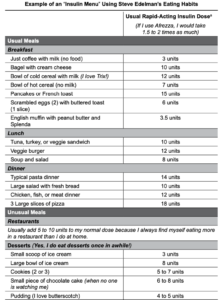 Note: These doses are my usual normal pre-meal dose of Apidra, Humalog, Novolog, Fiasp, or Lyumjev. Afrezza would be 1.5x the dose in general.
Additional Resources: